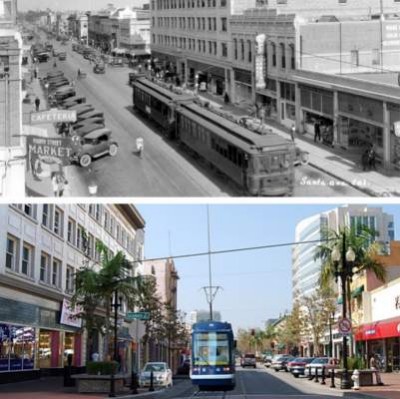 In a bid to win federal approval and matching funds, the OCTA agreed Thursday to commit $56 million toward a new light-rail line connecting Santa Ana and Garden Grove. By making the commitment, the OCTA stands to gain up to $144 million from a competitive federal grant program called New Starts to spend on a planned $289 million light-rail line, according to the O.C. Register.
Santa Ana had a streetcar years ago but it was removed – in part to mollify the automobile manufacturers who wanted folks to drive instead of using light rail.  It was part of the Pacific Electric rail system, which was a privately owned mass transit system in Southern California consisting of electrically powered streetcars, interurban cars, and buses and was the largest electric railway system in the world in the 1920s. Organized around the city centers of Los Angeles and San Bernardino, it connected cities in Los Angeles County, Orange County, San Bernardino County and Riverside County, according to Wikipedia.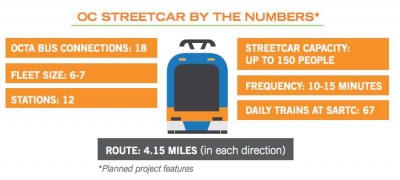 The OC Streetcar will serve employment centers, retail stores, restaurants, and civic buildings along its four-mile route between the Santa Ana Regional Transportation Center and Harbor Boulevard and Westminster Avenue in Garden Grove, according to the OCTA.
When the project began, the City of Santa Ana, in partnership with the City of Garden Grove, served as the lead agency for streetcar planning efforts. Expanding on the vision of community established by Santa Ana and Garden Grove, OCTA is now the lead agency for project development, engineering, construction, operations, and maintenance, according to the OCTA.
OC Streetcar Project Timeline:
Project Development Winter 2015 – Summer 2016. The project development phase includes the development, public circulation and approval of all environmental documents, the adoption of the preferred route by the cities, and the beginning of project design.
Design and Engineering Summer 2016 – Fall 2017. In the design and engineering phase, all the details of how the streetcar will be constructed and operated will be developed.
Construction Fall 2017 – Fall 2019. In the construction phase, tracks will be laid and the streetcar will become a reality.
Testing; Begin Operations Late 2019. Since safety is a top priority, the streetcar system will be thoroughly tested before it is ready for public use.
The preliminary cost estimate for the OC Streetcar is $250 million (year of expenditure). Funding sources identified for this project, including capital and operations and maintenance, include Measure M as well as Federal Transit Administration New Starts.