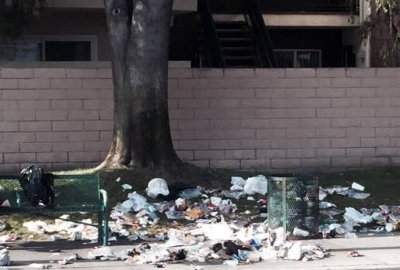 ORANGE – The OCTA Board of Directors this week approved more than $1 million to make improvements to 35 of the county's busiest bus stops in the city of Santa Ana, helping provide newer, more comfortable shelter for passengers waiting to ride OC Bus.
The funds are provided through Measure M, the county's half-cent sales tax for transportation, also known as OC Go. The measure, renewed by voters in 2006, includes funding to help provide improved transit amenities at the county's busiest bus stops.
This week's award of funding for bus-stop improvements is part of OCTA's ongoing investment in communities where there is the greatest demand for public transit. Santa Ana, which has some of the county's most heavily used bus routes, applied for the competitive funds and will work with OCTA to implement the upgrades.
"A big part of our mission is provide our bus passengers with a safe and enjoyable experience that encourages them to ride public transit, and these local sales tax funds will help significantly enhance the experience for OC Bus riders," said OCTA Chairman Steve Jones, also the Mayor of Garden Grove.
Funds will be used to make improvements at 35 of Santa Ana's bus stops, including several popular routes along Bristol Street, 17th Street and Harbor Boulevard, among many other locations throughout the city.
The improvements include replacing existing shelters (from rain and sun), benches, trash receptacles, advertising cases and making necessary improvements to concrete at the stops.
While bus stops throughout the county are located on city property and maintained by individual cities, OCTA works in partnership with those cities to determine the best locations for stops and provides competitive funding for improvements.
To date, the OCTA board has approved more than $3.1 million for similar bus-stop improvements throughout Orange County.
About OCTA: The Orange County Transportation Authority is the county transportation planning commission, responsible for funding and implementing transit and capital projects for a balanced and sustainable transportation system that reflects the diverse travel needs of the county's 34 cities and 3.2 million residents. With the mission of keeping Orange County moving, this includes freeways and express lanes, bus and rail transit, rideshare, commuter rail and active transportation.