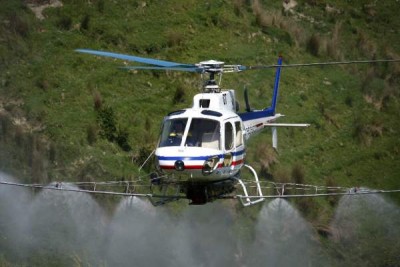 Here we go again.  The Orange County Mosquito and Vector Control District has announced that they are going to be conducting aerial spraying of a chemical poison over the cities of Orange, Tustin, Villa Park and portions of Anaheim, Fountain Valley, Garden Grove, Santa Ana and Stanton between 10 p.m. and 4 a.m. on Wednesday, September 9, and Thursday, September 10, 2015 (weather permitting).
The chemical is called Duet.  This is a mosquito control product registered for use by the US Environmental Protection Agency (EPA).  That said it is a terrible idea to spray this product. Duet is highly toxic to other insects, such as bees.  It is also deadly to fish.
While the Vector Control District says that there is no need to stay indoors – what about the homeless?  Should they be out there getting sprayed?  Should they be breathing that stuff?
The fact is that most mosquitoes in Orange County are already infected with the West Nile virus so why resort to this silly spraying?
The answer is insidious.  The Vector Control District exists because they take our money via property assessments.  They can only justify their existence by scaring the public.  That is what this spraying operation is all about.
There is no reason to spray a toxic mist all over the County.  Very few people die from this disease and in fact the most liable to get sick are the homeless because so many of them sleep outside.
If you want to avoid the West Nile Virus then don't go outside after dark.  If you do then be sure to wear long pants and sleeves and use mosquito repellent.
The homeless should be provided with mosquito repellent and temporary housing rather than douse them with toxic chemicals.
Please call the Vector Control District and complain at (714) 971-2421 or (949) 654-2421, or visit www.ocvcd.org.
And take the time to complain to the lame Vector Control District Board Members and Staff and to our local elected officials: