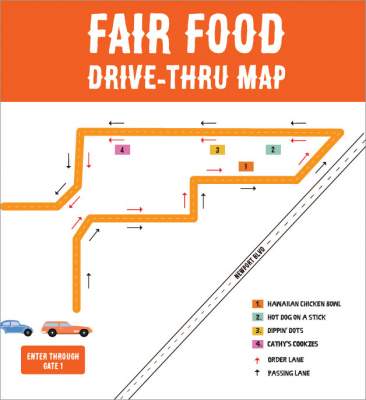 COSTA MESA (Aug. 21, 2020) – OC Fair fans won't have to miss out on their food fix this year after all. Starting Aug. 28, the Fair Food Drive-Thru will offer summer treats from four food vendors bringing a taste of the OC Fair to go.
Guests longing for their favorite delightful indulgences can head to the fairgrounds in Costa Mesa and choose from special menus from one or all of the following:
• Cathy's Cookies
• Dippin' Dots
• Hawaiian Chicken Bowl
• Hot Dog on a Stick and Veggie Dog on a Stick
Menu items include turkey legs, teriyaki chicken bowls, hot dog and cheese dog on a stick, and chocolate chip cookies. See a map and full menu at ocfair.com/drivethru.
Guests will enter through Gate 1 off Fair Drive, and will be directed toward the order lane or passing lane. Guests will be required to stay in their vehicle and wear a mask while ordering from the vendor. Credit card payment is preferred. No walkups will be allowed and no parking will be available.
Fair Food Drive-Thru, starting Aug. 28
Fridays & Saturdays, noon-8 p.m.
Sundays, noon-6 p.m.
For more information, visit ocfair.com.
Also coming to the fairgrounds:
DRIVE-IN CONCERT EXPERIENCE
Autosonic Concerts presents Dead Man's Party in a drive-in concert experience at OC Fair & Event Center on Sept. 27. The Oingo Boingo tribute band will perform live while guests enjoy the concert from the comfort of their vehicles. Tickets are on sale now at autosonicconcerts.com.
DRIVE-THRU HALLOWEEN HAUNT
Urban Legends of Southern California has come to save Halloween! The drive-thru Halloween haunt will run from Oct. 1 through Nov. 1. Tickets are on sale now at urbanlegendshaunt.com.
FARMERS MARKET
Every Thursday from 9 a.m. to 1 p.m., local farmers and merchants sell fresh produce, food items, home goods and more. Parking and admission are free. See safety guidelines and more info at ocfair.com/events.
OC Fair & Event Center in Costa Mesa is home to the annual OC Fair and Imaginology. Year-round attractions include Centennial Farm, Table of Dignity, Heroes Hall and Pacific Amphitheatre. Throughout the year, events ranging from recreation shows to cultural festivals are held at the Fairgrounds. For more information, visit ocfair.com.
Support of OC Fair & Event Center provides year-round educational opportunities and helps fund community give-back programs.