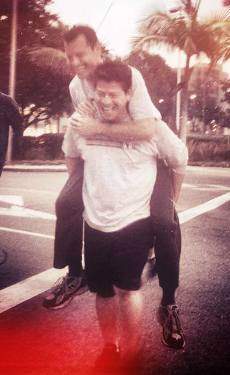 While none of the Santa Ana City Council incumbents lost in the November General Election there is still major change coming to our City Council.  You might recall that former Mayor Pro Tem Sal Tinajero withdrew his support for Councilman David Benavides, prior to the General Election.  Now Tinajero has joined forces with the new Mayor Pro Tem, Vince Sarmiento.  In short, the adults are now running the Santa Ana City Council.
Tinajero and Sarmiento are working to form a new City Council majority with Council Members Angie Amezcua and Michele Martinez.  The latter has at times joined with Reyna and Benavides. But if Martinez wants to survive in politics she will now dump them and work instead with Sarmiento and Tinajero.
If Martinez decides to be obstinate then Tinajero and Sarmiento have another option.  They can form a Council majority with Amezcua and Mayor Miguel Pulido.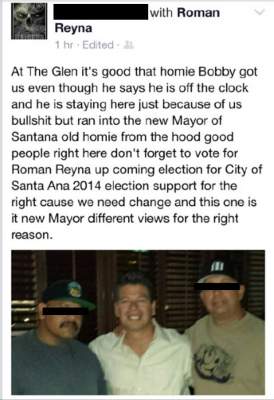 Reyna, who watched his Mayoral campaign go up in flames after a picture of him with two members of a street gang was posted on Facebook, now has to fear what is coming in 2016, when he will have to run for reelection.  While Reyna and Benavides still enjoy the support of a few high density apartment developers it is unlikely that they will be able to garner more power if they are seated at the little kids' table.
Amezcua must play ball as well since she is also coming up for reelection in 2016.  I still don't think she will run for reelection but if she does she will need Sarmiento and Tinajero to help her raise campaign funds.
Benavides had hoped to run again for Mayor in 2016 but I am now hearing that Pulido will run for reelection again.  Benavides knows full well that he can't beat Pulido.  None of the Council Members can.  All they can do is wait for Pulido to term out.
Reyna and Benavides will not matter much any more going forward.  They won't be able to garner Council support for their proposals.  I am not sure they will even be able to get their City Commissioners approved by the new Council majority.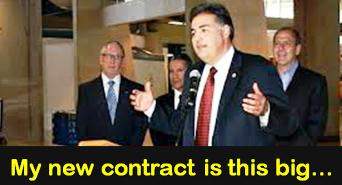 All of these Council Members now know that they screwed up by firing former City Manager Paul Walters and hiring the overpaid new City Manager, David Cavazos, who has predictably set about raising taxes and fees and he is even trying to get a bit raise – which will further pad what will surely be a record-setting pension.
It is incumbent on the new Council majority to stop wasting time fighting among themselves and attacking Pulido.  Crime is still a major issue in this city and we need to find ways to attract more new businesses – and make it easier for them to locate in our city.  We need the City Council to work hard and be productive.  Thankfully the most petulant Council Members are now on the sidelines.