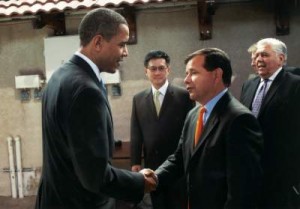 Santa Ana's longtime mayor is under investigation for his relationship with the owner of the Santa Ana location of NAPA Auto Parts, to whom the mayor sold a piece of downtown  property and then voted in favor of giving an exclusive city contract, according to the L.A. Times.
We have heard all this before from the Voice  of OC.  Here is what it boils down to – an auto parts business owner in Santa Ana swapped a home in Westminster for a parking lot owned by Mayor Miguel Pulido's father.  Pulido later sold the home for a $197,000 profit.
The Fair Political Practices Commission notified Pulido last week that it had  opened a conflict-of-interest investigation into the matter. The letter is dated  Feb. 18.
Real estate records show that both pieces of property were valued at  $200,000. But after the sale was recorded, the Orange County assessor's office  determined that the Westminster home was sold below fair market value and  appraised it at $430,000, according to the L.A. Times.
The only reason this is even a story is that the Santa Ana City Council "voted to make the NAPA auto parts store the city's sole provider for Santa Ana's  fleet of 753 vehicles. The three-year contract with NAPA was valued at $1.35  million, and council records show that the deal was touted as a way for the city  to streamline deliveries and reduce costs."
Here's why I don't think Pulido is going to get fined – there is absolutely no evidence that he conspired to convince his fellow Council Members to make the deal with NAPA Auto Parts.
Pulido should have, in retrospect, abstained from voting on the NAPA deal.  And he should have included the Westminster home in his statements of economic interests for 2010, 2011 and  2012, as required by law. He submitted amendments to his 700 Forms late last  year after the real estate deal was first disclosed in media reports.
Of bigger concern to me is the fact that a big apartment developer gave a ton of money to Council Member David Benavides' mayoral campaign and to the 2012 ballot measure campaign that Benavides supported.  They also funded Council Woman Michele Martinez' Assembly campaign.
Many of our city's major problems stem from the many high density apartments that City Councils approved in the 1970's.  Do we really need to make the same mistakes again?
As for Pulido, he can't be enjoying the extra media attention but come this November he will most likely steamroll Councilman Roman Reyna, who I am told is going to be running against Pulido, for Mayor.