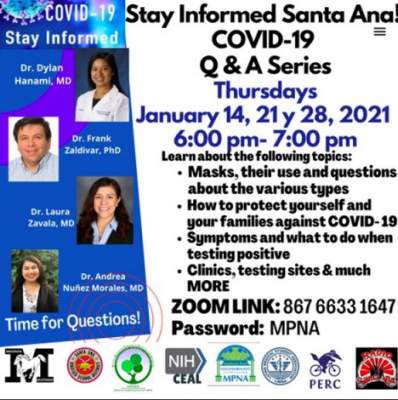 The Santa Ana Communication Linkage Forum (Com-Link) is having a virtual general meeting on Thursday, Jan. 28, 2021, at 7 p.m.
Join the meeting on Zoom here or dial 1 (669) 900-6833 and enter Meeting ID: 965 7185 8492.
Agenda:
• Special Guest: Santa Ana City Manager Kristine Ridge to share City updates related to the pandemic.
• Main Presentation: OC Fire Authority Capt. Stephen Horner to discuss COVID-19 testing, vaccine and safety.
And check out Madison Park Neighborhood Association's "Stay Informed Santa Ana – COVID-19 Q&A Series" with medical doctors scheduled for Thursday, Jan. 28, from 6 to 7 p.m.
Zoom ID is 867 6633 1647 & password is MPNA. For more info: https://bit.ly/2Yj1wlx.