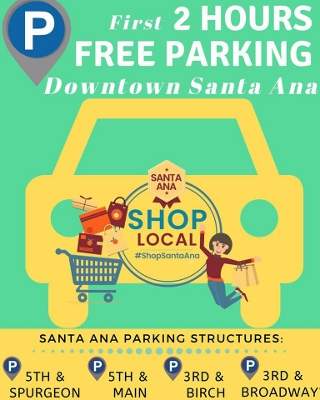 Santa Ana, CA – The City of Santa Ana will be providing free parking for the first 2 hours in all City owned parking structures located throughout the Downtown area, effective December 1, 2019. Take your time, no need to rush because the first 2 hours of parking in the structures will be free. Swing by Downtown Santa Ana (DTSA) for a gourmet cup of coffee, for a savory lunch meeting, for professional services or for a fun shopping spree – your first 2 hours of parking in the structures will be free.
Downtown Santa Ana has been revitalized as one of the County's trendiest destinations that provides a historic yet urban vibe. All are welcome to DTSA to enjoy the culturally diverse restaurants, coffee shops, professional offices, retail stores, and all weekly fun events. DTSA embraces an eclectic culture and thousands of foodies, nightlife fans, entrepreneurs and new residents settling in DTSA every month.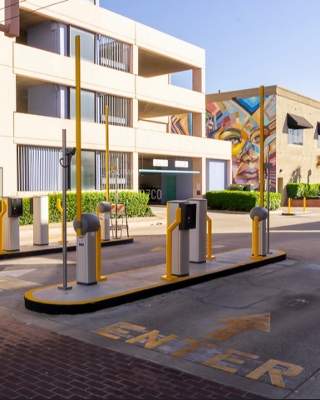 There are four (4) parking structures throughout DTSA that will provide free parking for the first 2 hours, effective 12/1/19. Parking structures are located as follows:
5th & Spurgeon, 300 E. 5th Street, Santa Ana, CA 92701
5th & Main, 420 N. Main St., Santa Ana, CA 92701
3rd & Birch, 310 N. Birch St., Santa Ana, CA 92701
3rd & Broadway, 201 W 3rd Street, Santa Ana, CA 92701
Note: The first 2 hours of free parking only applies to parking structures listed above and does not apply to street meters.
MORE ABOUT DOWNTOWN SANTA ANA
Downtown Santa Ana is a marketplace with long narrow streets, lined with brick sidewalks, historic buildings, street vendors, restaurants, retail shops, professional services, wrapped by art & murals at almost every corner. Special events occur every week in DTSA, including: the Art Walk and Dancing on the Streets on the 1st Saturday of each month as well as the Witch Walk that occurs every 3rd Saturday of the month, and many more events every weekend, see calendar (www.downtown-santaana.com/calendar.html) for details.
Visit the following sites for more information about Downtown Santa Ana (www.downtown-santaana.com) also referred to as Calle Cuatro (callecuatromarketplace.com/) where you will be pleased to Uncover Santa Ana (https://www.uncoversantaana.com/) and all it has to offer.
Don't forget to use #DTSA when checking in to Downtown Santa Ana on social media. Follow us on: Facebook (www.facebook.com/downtowninc) and Instagram (www.instagram.com/dtsantaana).