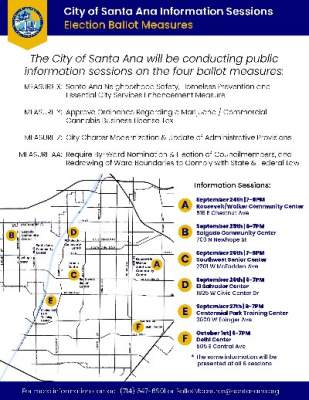 City of Santa Ana, Downtown Orange County
Community: City of Santa Ana Information Sessions:Election Ballot Measures/Sesiones Informativas de la Ciudad de Santa Ana:Medidas Electorales
These sessions will be strictly informational in nature and will provide information on all four ballot measures:
The same information will be presented at all six sessions. The six sessions include:
For information regarding the election ballot measures or the upcoming information sessions, please contact (714) 647-6901 or BallotMeasures@santa-ana.org.
####
La Ciudad de Santa Ana llevará a cabo sesiones de información públicas a la comunidad sobre las medidas electorales de la Ciudad. Estas sesiones solamente informativas y proporcionarán información sobre las cuatro medidas de votación:
Medida X: Seguridad Vecinal de Santa Ana, Programas de Prevención de Indigencia y Medidas Esenciales de Mejora de Servicios de la Cuidad
Medida Y: Aprobar la Ordenanza Relati va a Impuestos de Licencias Comerciales de Marihuana / Cannabis Comercial
Medida Z: Modernización de Carta Estatal de la Ciudad y Actualización de Disposiciones Administrativas
Medida AA: Requerir la Nominación y Elección por Distrito de los Miembros del Concejo, y el Rediseño de los Linderos de Distrito para Cumplir con las Leyes Estatales y Federales
La misma información se presentará en las seis sesiones. Las seis sesiones incluyen:
A. 24 de Septiembre | 7-8PM
Roosevelt/Walker Community Center
816 E Chestnut Ave
B. 25 de Septiembre | 6-7PM
Salgado Community Center
706 N Newhope St
C. 25 de Septiembre | 7-8PM
Southwest Senior Center
2201 W McFadden Ave
D. 26 de Septiembre | 6-7PM
El Salvador Center
1825 W Civic Center Dr
E. 27 de Septiembre | 6-7PM
Centennial Park Training Center
3000 W Edinger Ave
F. 1 de Octubre | 6-7PM
Delhi Center
505 E Central Ave
Para informacion sobre las medidas electorales de las elecciones o las sesiones informativas, llame al (714) 647-6901 o BallotMeasures@santa-ana.org.