The Santa Ana City Manager, David Cavazos, is going to ask the Santa Ana City Council not only to affirm his unwarranted bonus tomorrow night but also to hand him a contract extension – even though Cavazos remains under investigation for romancing a subordinate city employee.
Cavazos' contract will be extended to Feb. 19, 2019, if the City Council votes to approve Cavazos' bonus and contract extenion. Currently his contract is slated to end on Oct. 21, 2017.
Cavazos, who was the highest paid city manager in the city's history when he was hired in 2013, received a 5 percent, $17,085.53 bonus after a Jan. 19 closed session vote of 5-2, with Pulido and Councilwoman Michele Martinez dissenting. The bonus was reported out of closed session, but a contract extension was not, said Clerk of the Council Maria Huizar, who is also slated to receive a 5 percent bonus Tuesday, according to the O.C. Register.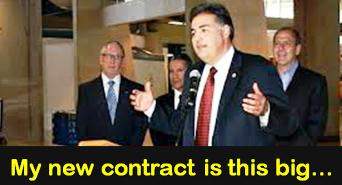 There is a reason that Huizar's raise is part of the same motion regarding Cavazos.  The City Council unanimously backs Huizar – so Cavazos tied her bonus to his own – and then added his extension to boot.
Cavazos' salary is a whopping $372,165, including bilingual pay, a housing allowance and medical cash back, and he receives $107,450 in medical, dental and retirement benefits.
So far only Council Member Michele Martinez and Mayor Miguel Pulido are opposing Cavazos' proposed bonus and contract extension.
Three of our City Council members are up for re-election in November of this year, including Roman Reyna, Angie Amezcua and Vince Sarmiento. One of them, Sarmiento, will also apparently be on the June Primary Election ballot, as a candidate for the First District, running against incumbent Supervisor Andrew Do.