Orange County Sheriff's Capt. Jeff Hallock revealed at a press conference today that a Santa Ana taxi driver was kidnapped at gunpoint and forced to transport three escapees from the Orange County Jail for several days during which two of the fugitives argued about killing him and burying his body, according to the OC Register.
When the escaped convicts, Hossein Nayeri, 37, Jonathan Tieu, 20 and Bac Duong, 43,  fled from the Orange County Central Men's Jail, after rappelling from a rooftop five stories above the street level, on Jan. 22, just after 5 a.m., they were driven to residences in Westminster, Huntington Beach and Santa Ana, where family and friends gave them money.
On the evening of Jan. 22, the convicts called a taxi in Santa Ana. It turned out to be a rough few days for that unfortunate taxi driver as Duong pulled out a gun and demanded that the taxi driver take them to Rosemead, in the San Gabriel Valley.
The next day, on Saturday, Jan. 23, Duong answered a Craigslist ad and then proceeded to steal a white utility van.
The three escapees then went to a beauty salon and tried to change their appearances.
Then they drove to a post office in Garden Grove where Tieu mailed a letter to his mom – a distraction tactic before the inmates headed north.
The convicts ended up at the Alameda Hotel in San Jose where they got into a fistfight over what to do about the taxi driver.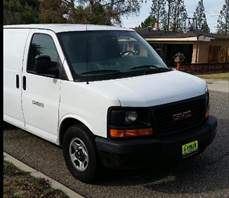 The felons then split up as Nayeri and Tieu took the van to get its windows tinted. When they left, Duong had the taxi driver take him back to Santa Ana where he turned himself in on Friday morning, January 29.
The inmates were captured in San Francisco on Saturday morning, over a week since they had escaped, after a man who saw them in their van called 911. He recognized the van and the escapees from pictures he saw on television. The witness caught the attention of police officers that were nearby at a Whole Foods Market close to Golden Gate Park.
The escaped convicts were charged today for escaping. Nayeri's trial on his original charges of kidnapping and torturing a Santa Ana marijuana dispensary owner will begin on Feb. 23. Tieu's trial, which involved charges stemming from a gang shooting, is set to begin on March 18. Duong's trial, for attempted murder charges, has not been set yet.