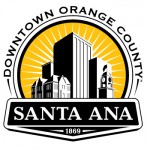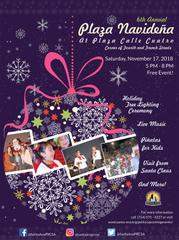 City of Santa Ana, Downtown Orange County
Advisory: KICK OFF THE HOLIDAY SEASON AT THE CITY OF SANTA ANA'S 6TH ANNUAL PLAZA NAVIDEÑA EVENT AND TREE LIGHTING CEREMONY
SANTA ANA – The City of Santa Ana will be hosting the 6th Annual Plaza Navideña event and Tree Lighting Ceremony on Saturday, November 17, 2018 from 5:00 p.m. – 8:00 p.m. at Plaza Calle Cuatro on the corner of Fourth and French Street in Downtown Santa Ana.
This free event is open to the public and will include the annual tree lighting ceremony, live entertainment including mariachi and folklorico dancing, piñatas for children, and, of course, a special visit from Santa Claus! Along with the festivities, tasty treats will be available for purchase.
For more information on Plaza Navideña, visit www.santa-ana.org/parks/upcomingevents/ or contact the City of Santa Ana Special Events office at (714) 571-4227.
###
INICIE LAS FESTIVIDADES CON EL 6º FESTIVAL ANUAL DE PLAZA NAVIDEÑA Y CEREMONIA PARA ILUMINAR EL ARBOL NAVIDEÑO
SANTA ANA – La Ciudad de Santa Ana celebrará su 6º Festival Anual de Plaza Navideña y Ceremonia de Iluminación del Árbol Navideño el sábado, 17 de noviembre del 2018 de las 5:00 p.m. y 8:00 p.m. en la Plaza Calle Cuatro situada en la esquina de las calles Cuatro y French en el Centro de Santa Ana. ¡Este evento gratuito será abierto al público y incluirá la ceremonia anual de iluminación del árbol navideño, entretenimiento en vivo incluyendo Mariachi y baile folklórico, piñatas para niños, y por supuesto, una visita especial de Santa Claus! Complementando las festividades, habrá deliciosos postres estarán en venta.
Para más información, visite www.santa-ana.org/parks/upcomingevents/ o llame a la oficina de Eventos Especiales de la Ciudad de Santa Ana al (714) 571-4227.