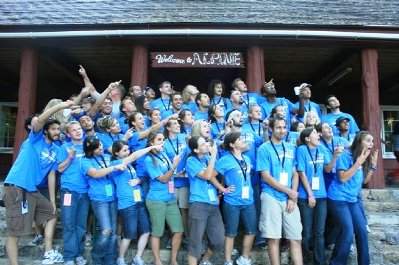 For Immediate Release: 09/24/2012
Contact: Lisa Castetter 949-769-6670 x25, lisa@teenleadershipfoundation.org
Teen Leadership Foundation Celebrates 5th Birthday
Newport Beach, CA – September 24, 2012 – Teen Leadership Foundation (TLF), a Newport Beach-based 501 C3 non-profit serving all of Southern California and the Pacific Northwest will be hosting a 5 year Anniversary Concert with local artists at Rock Harbor in Costa Mesa on November 9th, 2012.
"When I started TLF 5 years ago, our goal was to provide leadership equipping programs for at-risk foster teens ," said TLF's Founder and CEO Lisa Castetter. "During that time, more than 1,200 teens have gone through our summer 3 day leadership camps and several hundred are now matched with a long term adult mentor as they head into emancipation. We are grateful from the support we have received and looking forward to the next 5 years and beyond for TLF."
We are anticipating over 300 guest attendees as we celebrate 5 years and honor founding board members and high level volunteers.
"TLF started out with 30 campers, "said TLF Founder and CEO Lisa Castetter. The community saw the statistics of aged-out foster teens and rose to the need; together we have provided long term life change for teenagers in foster care in and around Southern California for 5 years.
Each year 24,000 foster teens emancipate out of the foster care system.
 In California, 65% of youth leaving care do so without a place to live.
 Studies found that between 44 – 77 % of emancipating youth have completed high school as compared to 93% of non-foster care youth.
 Research shows that only 1% to 5% of foster youth ever graduate from college.
 Within 2-4 years of emancipation, 40% of emancipated youth have been on public assistance or incarcerated by that time.
 Girls who emancipate from foster care are approximately 3X more likely than their peers to have a child by 19.
About Teen Leadership Foundation – Teen Leadership Foundation offers support and guidance for teens prior to exiting the foster care system. It is our goal to address the needs of the youth's in-order to change the statistics they fall under. Our programs provide avenues in which the teens can enter the adult world having a support basis surrounding them. Through our weekend camp program the teens can develop a relationship with a stable adult figure to become a positive role model and a life-long mentor. The camp begins to help foster teens acquire solutions and trust through team building exercises and rope courses that also assist them in building confidence and self esteem.
###