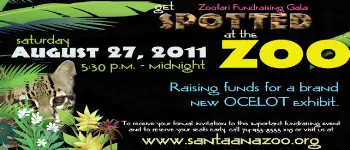 The Santa Ana Zoo's signature gala eventZoofari is back, on Saturday, August 27 from 5:30 pm to 12:00 am.
This year's theme is "Get Spotted at the Zoo" as we raise funds for a new exhibit featuring the spotted Amazon jungle cats, the Ocelots.
Begin your evening's adventure by entering to a whole themed world inside the Zoo.
Continue reading→