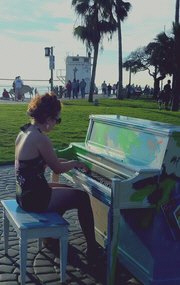 Santa Ana artist Joni Renee will be  playing the piano she painted for the "OC Can You Play?" fundraiser, on Saturday, February 5, from 8:00pm – 8:30pm, at the Santora building, which is located at 211 Broadway, in Downtown Santa Ana.
With an unequaled alto voice, razor-sharp lyics and iconic red hair, Joni has quickly garnered a loyal crowd of fans around Orange County.
Join us at the Art Walk for a night of music!
Click here to RSVP on Facebook.