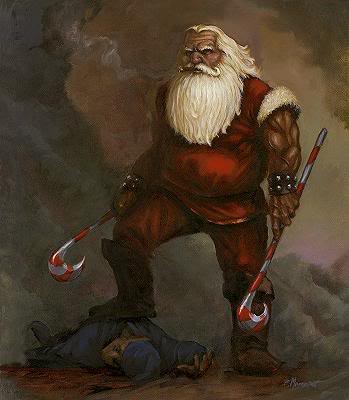 The Christmas celebration has become one of our favorite nights in the Artist Village here in Santa Ana. The whole Santora Building will be involved, as well as many other local galleries.
Saturday, December 4 · 5:30pm – 11:30pm.  The Historic Santora Building, located at 207 North Broadway.  Click here to RSVP on Facebook.
This show will feature live entertainment featuring many of Orange County's up-and-coming musicians:
5:45 Stacy Clark
6:45 Adrian Watkins
7:30 Joni Renee
8:30 Roosterhead
9:15 Donnie Sartoris
10:00 Will Edwards & The Socialists
They will be performing on the second floor.
Here are the artists' biographies:
Born and raised in the suburbs of Buffalo, NY, Stacy Clark began playing her own acoustic pop music as a teenager. Open-mike performances led to a self-booked tour in 1999, which found the teenaged Clark playing coffee shops, bars, and the Cornerstone Festival. After moving to California in 2004, she began landing songs in various TV shows, including a host of MTV programs. She also released her second EP, Unusual, and made a guest appearance on the second Jack's Mannequin album. The biggest push came in 2010, though, when Clark signed a deal with Vanguard Records in March and released a full-length album, Connect the Dots, later that summer.
Adrian Watkins is a singer/song writer who is looking to reach many fans with his music. His songs talk about the heart aches of not just love but life as well. With his acoustic guitar in hand, Adrian is a passionate performer, who quiets the loudest of rooms, with his catchy hooks and melodic voice. Adrian is a must see and is sure to be a hit.
Joni is a twenty-year-old singer-songwriter who has recently captured the attention of the thriving So-Cal music community. With an unequaled alto voice, original style and iconic red hair, she has quickly garnered a loyal crowd of fans at local venues such as Waterloo Station, Gypsy Den and the Broadway Theater, where she performs weekly. Her songwriting stands apart in its biting honesty, being hailed by the OC Arts and Culture Magazine as "the breath of razor-sharp brutality that Orange County's jeans-and-tans girly pop needs." Joni's music is most influenced by Norah Jones and Fiona Apple, with a hint of Counting Crows and Regina Spektor. Joni owes more than just her name to the great Joni Mitchell, whom she often covers. Joni is excited to be releasing her debut album, "In the Valley of Secrets," by Christmas 2010.
Roosterhead is a cosmic crew of two; it's a pair of psychedelic punks on a sonic journey to create exciting, vibrant tunes and open a lot of minds in the process. Roosterhead's arsenal of songs includes sunny fuzz rockers, deep space epics, funky junkyard freakouts, and high-octane psychedelia, many of which can be heard on their debut EP, Burst Your Bubble. On stage, their live show is a kaleidoscope of colors and tones–an audio visual circus featuring neon face paints, fluorescent amplifiers, and glowing drum kits.
Donnie is one half of the band The Heroic Charade, which was established in 2009. Donnie has an incredible several-octave range and takes pride in his unique style, which he calls "hip rock".
Will Edwards will be performing with his band, The Socialists. Listening to Will in any setting automatically transports you to a warm living room with your favorite couch and a nice fire in the hearth. His style of playing and intensely relevant lyrics is as pleasing to the ears as the last school bell before summer break is to a school kid. His crafted brand of story telling sucks you into the moment and never disappoints. A calm demeanor and a sharp wit makes for an incredible evening of music and storytelling.
All artists will be selling their CDs and merch! It's going to be an amazing party!