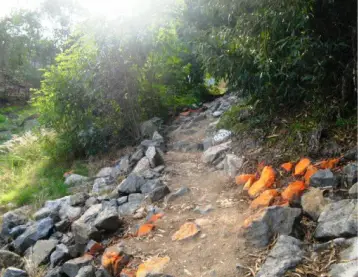 The grass-roots neighborhood organization, Neighbors for the Santiago Creek Bike Trail, that was formed to further the goal of a bike path in the "missing link" along Santiago Creek, has launched a new website.
This "missing link" is the 1/4-mile gap located in the Santiago Creek, between the 5 Freeway underpass and Flower Street (see map on reverse.) The City of Santa Ana does not currently have a bike trail proposed in the missing link. With this link closed, our neighborhoods will have ready access to adjoining trails. We want open space and the ability to connect to these outlying bike trails, shopping centers and communities either by biking, jogging or hiking.
A path along this missing link will join us to the County's regional bike trails and link together four neighborhoods (West Floral Park, Floral Park, Jack Fisher Park, Morrison Park), to the neighborhoods near Santiago Park (separated by the 5 Freeway) along the Creek.
The opponents of the trail have been very vocal. We need this trail to happen! They were able to convince the City to consider closing off this section of the Creek! The City has commissioned a study for that purpose! We can't let that happen!! The trail in Santiago Creek could turn out to be one of the City's greatest assets connecting us to the rest of the County!
If you think this is the right thing for our neighborhoods, and would like to lend us your support, or would like periodic updates, please contact us at neighbors4trail@aol.com, by providing your name(s), address and phone number.
Click here for a flyer in support of the bike trail.  Click here to see the new website in support of completing the Santiago Creek bike trail.
ARTICLES and STUDIES