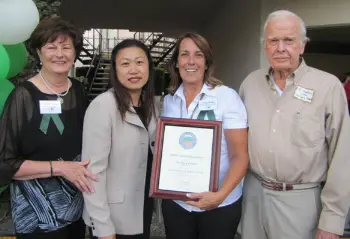 Left to Right: Martha Lester – Executive Director, Janet Nguyen – First District County Board Supervisor, Cindy Thomas – Director of Behavioral Health, Allen Stafford – The Gary Center Founder
PRESS RELEASE: GRAND OPENING OF SACS ON 17TH
The Gary Center celebrated the grand opening of their new office, SACS on 17th, in Santa Ana last Thursday, September 15th. SACS or Substance Abuse Counseling Systems opened July 1st to serve and treat individuals and families struggling with substance abuse recovery.
Allen Stafford, the founder of The Gary Center and the First District County Board Supervisor, Janet Nguyen, had the honor of cutting the red ribbon at the event.
Many supporters of the Gary Center attended the event including, board members, volunteers and administrators of the Orange County Health Care Agency.
SACS is a dba of The Gary Center and a project funded by the County of Orange Health Care Agency. The Gary Center has served the North Orange County community for 40 years and is proud to be offering its services now in central OC.
###