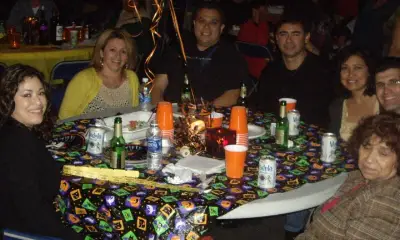 The Washington Square Neighborhood Association (WSNA) is hosting a Fall Concert on Saturday, September 24, from 6-10 pm (6-7 Social hour, 7-10 Concert), at Lowell at 15th.  The stage (which belongs to the City of Santa Ana), check-in booth, tables, chairs, and restrooms will be placed in the streets (which, of course, will be closed off ).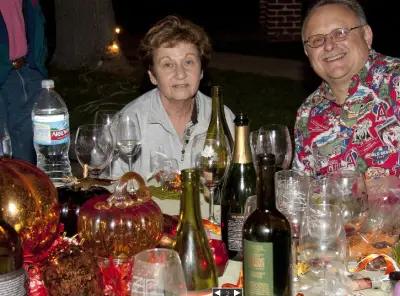 Dance the night away to the sounds of BP Maxx, the 2009 WSNA concert band that is back for a return engagement. The fun starts at 6PM with music from 7-10. Bring your own food and drinks as they're not selling anything this year.
Unlike the WSNA WineWalk that's limited to 75 people, they're closing down Lowell Street and will have room for a presumably disorderly crowd. The tables seat 8 so bring your friends and reserve one or more now. Tables are $35 in advance and $40 the night of the concert.
If you haven't attended one of the WSNA Fall Concerts before, check out the pictures from 2008 & 2009.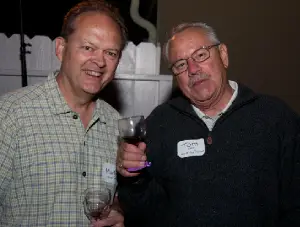 Former Santa Ana Councilman Tom Lutz (pictured above) posted this message about the event on the Santa Ana Citizens Yahoogroup site:
We have tables if you would like to join in on the fun and dance your feet away to the band BP Maxx. Tables are $35 and seat eight. Bring your own table decorations, food, spirits and, 6 other fun folks. This Saturday the 24th at Lowell and 15th, 6:00 to 10:00.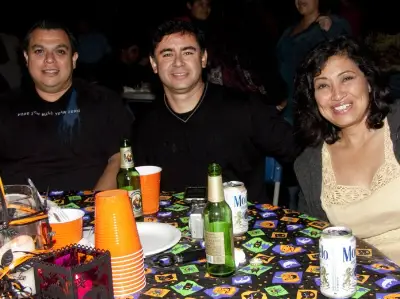 To download the 2011 Fall Concert flier, click here.
You may reserve a table via Paypal, on the WSNA website.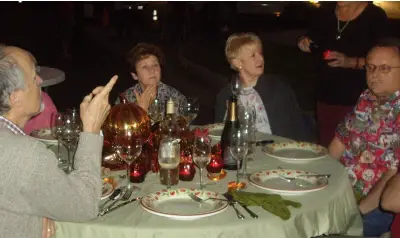 These are the same folks that had a royal cow about the proposed move of the Chivas USA soccer team to Willowick Golf Course, in their Summer Newsletter.  In that newsletter they gave these reasons for opposing the Chivas USA deal (which has yet to materialize):
Puts property values at risk. With constant noise (announcer, crowds and vuvuzalas), parking hassles, potentially violent post-game crowds; potential new families will think twice before moving to Washington Square.
Costs taxpayers millions. MLS estimates the cost to construct a stadium at $300 million. Where is this cash-strapped city going to find that kind of money? Name sponsorships won't generate that kind of cash. And once built, who covers operating expenses of such a huge enterprise? Us? Really?
Hurts local sports. Only Chivas USA will have access to the stadium, no one else.  The season is eight months long. That means every program in Santa Ana will have no venue. None. There are no alternatives.
Creates traffic and the need for traffic enforcement. Along with traffic comes pollution and more cars mean more enforcement (police officers, cars, dogs, motorcycles) are needed. In addition parking mitigation MUST be strictly monitored or our streets will be event parking. In fact based on the number of spaces available (2040) and the average crowd (14000), cars need to average 7 persons per vehicle to be accommodated in existing parking and that leaves no parking for employees or city workers.
No due diligence.  There are (1) no independent professional impact studies, nor have there been (2) public hearings–both are egregious, deplorable, possibly criminal oversights