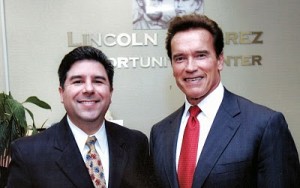 When Governor Arnold Schwarzenegger announced, back on Jan. 2, 2008, that he was appointing Santa Ana Carlos Bustamante to the California Fair Employment and Housing Commission, I could not believe it.  It was perhaps the most ridiculous appointment ever.
Looking back at the failed appointment it is even more ridiculous given that the Fair Employment and Housing Commission is in charge of overseeing sexual harassment cases!  How dumb does the appointment look now – after Schwarzenegger's career imploded when we all found out that he impregnated a Latina housekeeper, behind his wife Maria's back, and of course Bustamante has now been accused of some of the most embarrassing sexual harassment behavior in the history of Orange County.
Below are a few excerpts from the Orange Juice blog post that I about the appointment – this post blew up and eventually I heard from State Senator Lou Correa, who personally rallied the legislators to stop the Bustamante appointment, forcing Bustamante to resign from the commission.
But Bustamante's sexist remarks also offer a justifiable reason to have him removed from the California Fair Employment and Housing Commission (FEHC). Bustamante was appointed to that commission by Governor Arnold Schwarzenegger, who himself has been guilty on more than one occasion of making sexist remarks. (Click here to read what I originally wrote about Bustamante's appointment to the FEHC).

Consider what this commission does. According to the FEHC's website: The Fair Employment and Housing Commission is a quasi-judicial administrative agency which enforces California civil rights laws regarding discrimination in employment, housing, and public accommodations; pregnancy disability leave; family and medical leave; and hate violence."

Consider what L.A. Times columnist Dana Parsons had to say about not only Bustamante's remarks but also Cunningham's reaction, "We're not saying that the lady isn't qualified. They're just saying she got the job over Santa Ana Police Chief Paul Walters because she's a woman." Parsons continued, "Melding the two strands of thought would produce this union: We think you're well qualified for the job, but if you weren't a woman you wouldn't have been appointed."

Cunningham was an enthusiastic backer of Bustamante when the latter ran for the First Supervisorial District last year – ironically Bustamante was utterly beaten by a woman, Supervisor Janet Nguyen. And now she has selected a woman to be our Sheriff, over yet another man backed by Cunningham. Talk about karma.

And Parsons cited yet another sexist comment by Cunningham, "I think gender was ultimately the deciding factor — the tipping point — in Hutchens' selection, and that anyone denying it played a role in her appointment is blind, dishonest or deceiving themselves."

Obviously Cunningham has issues with women. But let's get back to Bustamante. In case you have forgotten exactly what he said about the selection of Hutchens, here are the comments Bustamante made to Walters after Hutchens was selected, "Maybe we should get you some implants. Or a water bra."

Bustamante clearly believes that Hutchens got the job because she is a woman. His fan boy Cunningham appears to share this belief. Parsons correctly nailed them both for the "inherent unfairness in impugning the Hutchens appointment."

Cunningham will not suffer any repercussions because of his views about the selection of Hutchens. Bustamante on the other hand should be removed from the FEHC. That is beyond a doubt. How can we take him seriously as an FEHC commissioner, charged with enforcing "California civil rights laws regarding discrimination in employment?"

I also think that Bustamante should be disciplined by his employer, the County of Orange. It is absolutely inexcusable for a high level County administrative manager to make such remarks. I guarantee you that he has gone through AB 1825 training. If anyone ought to know better it is him. And clearly the City of Santa Ana also needs to discipline him because he breached their Code of Ethics by lying about making his sexist remarks.
So what happened after I complained about Bustamante's appointment?  Let's let the L.A. Times conclude this post:
Santa Ana City Councilman Carlos Bustamante has quietly resigned from two state commissions he was appointed to by Gov. Arnold Schwarzenegger, after his published remarks last month suggesting a candidate for Orange County sheriff could've gotten the job if he had breast implants.

Bustamante, a Republican, was appointed in January to the state Fair Employment and Housing Commission, but his nomination had yet to be confirmed by the Senate. He'd also been appointed to the California Council on Criminal Justice.