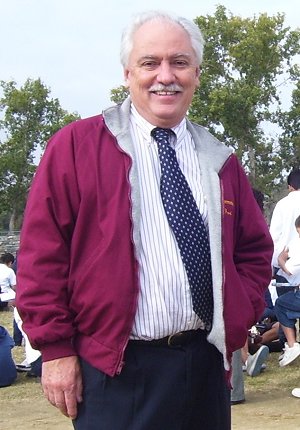 FOR IMMEDIATE RELEASE
Contact: Angela Burrell, APR, (714) 558-5555 
Spurgeon Intermediate Dedicates 'Russ Ford Hall' on September 23
New two-story classroom building honors legacy of beloved teacher
SANTA ANA, CA – September 22, 2011 – Santa Ana Unified School District's (SAUSD) Spurgeon Intermediate School will hold a ceremony to dedicate the school's new classroom building in memory of retired teacher Rusell Ford on Friday, September 23 at 9:00 a.m. Ford was tragically slain last spring in a domestic dispute.
Over the course of 30-plus years from 1978 to 2010, Ford held various positions at Spurgeon Intermediate including reading specialist, activity leader, Title I program specialist and teacher on special assignment, until retiring in June of 2010. Ford was responsible for helping the school earn its 1990 Golden Bell Award for the Title I Reading Program, which focused on increasing student literacy skills.
"Russ joined the school four years after it opened and made significant contributions to improve the school and the educational process. He redesigned the raised central area in the main building to house the school's new technology labs," said teacher Stacy Kline, who worked with Ford and organized the event.
Spurgeon Intermediate Principal Lillian Soto remarked, "Russ was an incredible asset to our instructional team. When our new two-story, 16 classroom building was complete, staff and students felt it would be a fitting tribute to name the facility after him to honor his legacy."
The dedication will include a tour of the building. To learn more about Spurgeon Intermediate School, log on towww.sausd.us/spurgeon.
###
SAUSD Public Information Office
1601 E. Chestnut Ave. | Santa Ana, California | 92701
Phone 714.558.5555 | Fax 714.558.5812