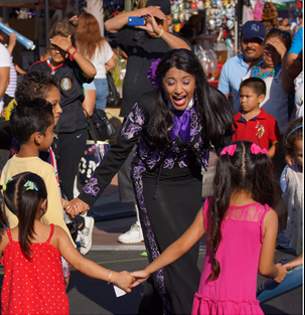 City of Santa Ana
Community Alert: Join the Community to Start the Spring Season with Fun & Celebration

SANTA ANA, CA (March 20, 2014) – The City is excited about this Saturday's First Annual Plaza Primavera and would like to remind everyone to attend the kickoff event to celebrate the start of the spring season. It will be held at Plaza Santa Ana on the corner of Fourth and French Streets this Saturday, March 22, 2014 from 4 p.m. to 8 p.m. City Council Member Michele Martinez and City Manager David Cavazos are two of our VIP judges for the City's first contest to select the "Best Bakery (Panaderia) in Town" for 2014.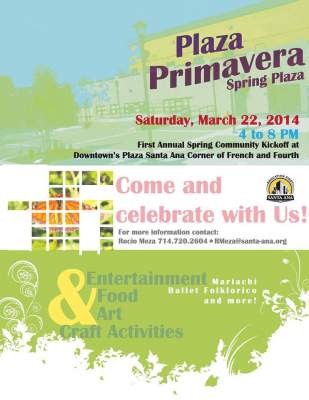 THE FUN STARTS AT 4 P.M. THIS SATURDAY AT PLAZA SANTA ANA (Plaza is at corner of French and Fourth Streets):
• The Orange County Children's Therapeutic Art Center (OCCTAC) will be providing an arts and craft table (easter egg coloring and butterfly art) and a group of teens playing violin. (This activity is being sponsored by the Santa Ana Business Council)
• A Giant Easter Bunny for Photo Opportunities.
• Our wonderful local Pillares de Mexico Ballet Folklorico
• Santa Ana High School Drumline and selections of their current musical production "The Heights"
• Mariachi Malibu
• Selection and Winner Announcement of the 2014 "Best Panaderia" in Town Contest
• Food: Los Reles Del Elote Asado and Coffee and Hot Beverages from Frijolitos
• Staff will be providing snack bags for a modest fee to raise funds for the Summer Catalina Camp Program
Check out the Plaza Primavera Facebook Page: https://www.facebook.com/events/1415918928663969/
For more information, contact Rocio Meza at (714) 720-2604 * RMeza@santa-ana.org.
###