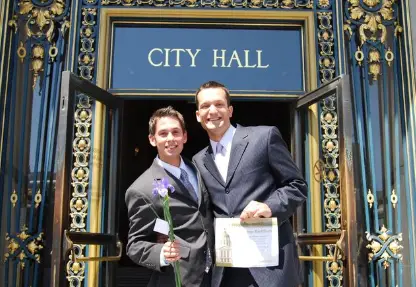 TONIGHT AND SATURDAY ONLY!  Off-Broadway Smash-Hit Confessions of a Mormon Boy Premieres in Orange County
This weekend, the much-anticipated Off-Broadway smash-hit CONFESSIONS OF A MORMON BOY finally premieres in Orange County. Star Steven Fales brings the play the Chicago Tribune calls "uncommonly powerful, gripping, and very moving" to Church of the Foothills for two performances only. On Friday October 1st and Saturday October 2nd at 8PM, come hear the inspiring and humorous true story of playwright and star Steve Fales' life. After this sixth-generation Utah Mormon came out as a gay man, he was divorced, lost his kids, excommunicated by the Mormon church, fell into drugs and prostitution, before finally reclaiming his kids and his "Donny Osmond" smile.
The play was originally directed by Tony Award Winner Jack Hofsiss (The Elephant Man). Given the issues around Prop 8 and the involvement of the Church of Latter Day Saints in the campaign, as the San Francisco Chronicle notes, "The story couldn't be more timely."
As this is a fundraiser for Church of the Foothills, tickets are a suggested donation of $20.00. For cash reservations, please call the church at (714) 544-1319. For credit card reservations, please purchase online at http://chotf.tix.com/ However, for those for whom $20 is too steep, we now have SPECIAL DISCOUNT TICKETS AVAILABLE! For 1/2 price tickets, go to https://www.plays411.net/newsite/show/play_info.asp?show_id=2546 THEN CLICK ON THE "DISCOUNTS" link! This offer is only available online through Plays411 and will not be available to those paying cash at the door.
Don't miss this groundbreaking and inspiring show! Tell your friends!
—
Members of the Open & Affirming Ministry
Church of the Foothills