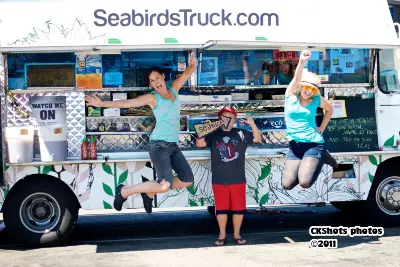 Food trucks aren't making kids fat
By JOSE SOLORIO, STATE ASSEMBLYMAN
3/01/2012
One of my Democratic colleagues has introduced Assembly Bill 1678, which seeks to ban "mobile food vending" within 1,500 feet of elementary and secondary schools, from 6 a.m. to 6 p.m. on school days. Without food trucks offering their fattening foods, the theory goes, kids will eat their carrots, obesity will vanish, and students will loiter less and spend more time in the library.
If only it were that simple. Statistically, children who watch the most hours of television, or log on to computers, have the highest incidence of obesity. Are we going to legislate time spent per day on technology? Studies also show that only about one-third of elementary-age children have daily physical education, and less than one-fifth of U.S. schools offer extracurricular sports. Are we going to increase physical education time when our students need every minute of cognitive instruction our financially challenged school districts can muster? And we all know that parents who eat diets high in saturated fats also have children who do the same. Are we going to start knocking on doors to check what's for dinner?
I'm often asked about my vegetarian lifestyle, and I take those opportunities to recommend healthy eating whenever I can. But I don't think it's right for the government to legislate what to eat. I do support increasing the availability of nutritional and caloric information, but trying to get everyone on the same diet is going over the top.
Childhood obesity has numerous causes. Genetics and social factors, socio-economic status, race/ethnicity, media and marketing and the physical environment all influence the balance between energy consumed and energy expended. Most factors in being overweight or obese do not work in isolation, and targeting just one aspect of it will not make a significant impact on the growing problem.
But what will create a problem is the inability of food-truck owners to make a living if this bill becomes law. When it comes to food trucks, location is everything. In a densely populated area such as Santa Ana, the roughly four-block, truck-free radius around a school that AB1678 would require could wipe out many popular areas where trucks prosper. In some California cities, it's estimated that food trucks would be banned from operating in one-half to two-thirds of city limits.
The food truck has come a long way since the frontier chuck-wagon days. Many new immigrants to America made their mark in their communities by selling their ethnic delicacies to their neighbors from push carts. There are many American success stories that started with a single cart or truck that evolved into major corporations. Even Anaheim's late corporate mogul Carl Karcher started what became the Carl's Jr. empire with a single hot dog stand.
That entrepreneurial spirit still exists, as now we see food trucks as a culinary trend. According to the latest figures, there are about 3 million food trucks in the United States, and more are hitting the streets every day. Innovations in technology for preparing and marketing mobile food, and the ability of an owner to get started on the cheap, is providing consumers access to all types of food, including nutritious and upscale gourmet varieties.
I know the author of the bill only wants the best for our children, but AB1678 only hurts our neighbors' businesses, limits our eating choices and does not solve the complicated problem of childhood obesity. Better food and more physical activity can be incorporated into children's lives and, of course, should be. But penalizing hardworking entrepreneurs for a nanny government experiment? I'm not buying it.
Jose Solorio
State Assemblyman
____________________________
Join Us @
Facebook.com/JSolorio
Twitter.com/JoseSolorio