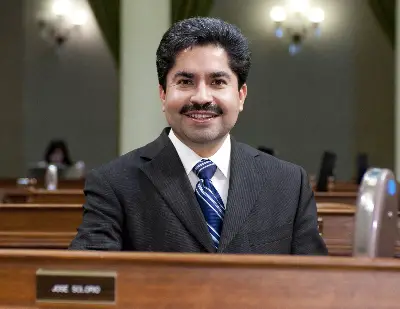 MEDIA ADVISORY, For Immediate Release: December 13, 2011
For More Information Contact: Carol Chamberlain – office: (916) 319-2069, mobile: (916) 804-5355
State Assemblyman Jose Solorio and the City of Santa Ana to hold groundbreaking ceremony for long-awaited water pipeline improvements to Santa Ana's Diamond Park neighborhood
Construction to connect small community to City of Santa Ana's water system will finally bring community safe, clean drinking water
SANTA ANA – State Assemblyman Jose Solorio (D-69) and officials from the City of Santa Ana will hold a groundbreaking ceremony in the Diamond Park neighborhood of Santa Ana to kickoff the long-awaited water pipeline project that will finally connect this small neighborhood to the City of Santa Ana's water system. This area had historically been served by an antiquated water system provided by a private water company. The community had never been connected to the City of Santa Ana's water system and the City could not legally come in to fix the problem.
WHAT:
Diamond Park Water Pipeline Improvement Groundbreaking Ceremony
WHEN:
Thursday, December 15, 2011 at 1:30 p.m.
WHERE:
Near 1613 South Diamond Street
Santa Ana, CA 92704
For more than two years, residents of the Diamond Park neighborhood have been receiving warnings that the water was unsafe for infants and pregnant women to drink because the water tested high in nitrates. When the problem reached Assemblyman Jose Solorio, he quickly met with community leaders and city officials to remedy the problem to bring fresh drinking water to the residents.
"Everyone deserves to have access to water that is clean and safe," Solorio says. "I was shocked to find this happening in Orange County and am relieved that we were able to quickly fix Diamond Park's water problems. I would like to thank the City of Santa Ana for working with me to bring a solution to what was once a potentially dangerous and unsafe situation. It's just the right thing to do."
Assemblyman Solorio worked with Speaker John Perez to insert language into the budget to bring much needed funding to assist the neighborhood. In turn, Diamond Park homeowners needed to dissolve the private water company and allow the connection of their homes to city lines. The City of Santa Ana was willing and able to do whatever they could to provide the community with access to fresh, clean, safe drinking water. They have worked tirelessly to provide the engineering, approvals and community support needed to bring the puzzle pieces together.
State Assemblyman Jose Solorio is the Chair of the Assembly Insurance Committee and also serves on the Assembly Appropriations and Transportation committees. He represents the Sixty-Ninth Assembly District, which includes the cities of Anaheim, Garden Grove, and Santa Ana. For more information about Assemblyman Solorio, visit www.assembly.ca.gov/solorio.