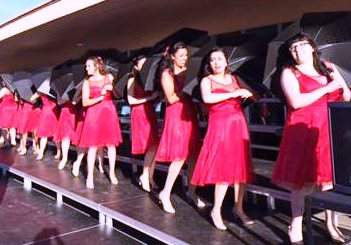 UPDATE: SAUSD Trustee Cecilia Iglesias contacted us today to confirm that she is going to talk to SAUSD administrators about this situation!
A group of parents at Santa Ana's Segerstrom Fundamental High School are reportedly upset because the daughters they enrolled in a popular dance class are now facing the prospect of being taught by a male PE instructor this Fall instead of the female PE instructors that were previously assigned to this class.
I am told that the administration at Segerstrom, which for years has been identified as Santa Ana's best high school, is totally new this year, under the leadership of Principal Duncan McCulloch.
Now why would Segerstrom's administration pull a bait and switch on the female students who signed up for the dance program only to find out after the fact that the teachers who did such a great job leading the dance classes got set aside for a male instructor who reportedly doesn't even want this assignment?  What gives?
Either the new administration at Segerstrom a) wants to push out the male PE teacher – thus giving him an unwanted assignment, or b) wants to undermine the dance program so as to wreck it and use the budget elsewhere, or c) they are just tone deaf as they did not bother to run any of this by the Segerstrom parents!
It used to be that the SAUSD respected fundamental school parents because so much of the fundamental school success depended on parental involvement.  But they have been steadily overcrowding the fundamental schools for a couple of years now and have really watered down the student population with kids who  aren't all that eager to learn.
I hear that the SAUSD is even pondering mainstreaming the fundamental schools into regular neighborhood schools altogether.  If so they will destroy the most effective schools in Santa Ana for no good reason.
The SAUSD does not by the way publish email addresses for the elected School Board Members.  How do you like that?  Luckily we have gathered up their contact info over the years.  So here is there personal contact info so Segerstrom's parents can give them a piece of your mind about the situation at Segerstrom:
Rob Richardson, vrrichardson@email.msn.com, (714) 558-5512
Jose Alfredo Hernandez, JoseAlfredo@1JAHLaw.com, 714-568-4529
Audrey Yamagata-Noji, aynoji@gmail.com, 909-274-4505
John Palacio, jpalacio@pacbell.net, (714) 856-5214
Cecilia Iglesias, safewithasl@yahoo.com, iglesias4sausd@gmail.com, 714-485-6396
And here is how you can contact the bigwigs at the SAUSD's administration:
Rick Miller, Ph.D.
Superintendent
Phone: (714) 558-5512
Fax: (714) 558-5610
Antonette Roberto
Confidential Assistant
to the Superintendent
Phone: (714) 558-5512
antonette.roberto@sausd.us
Cynthia Gastelo
Recording Secretary
Board of Education
Phone: (714) 558-5515
cynthia.gastelo@sausd.us
Rosie Rosales
Executive Assistant
Phone: (714) 558-5511
rosie.rosales@sausd.us
Travis Tamasese
Sr. Executive Secretary
Phone: (714) 558-5513
travis.tamasese@sausd.us