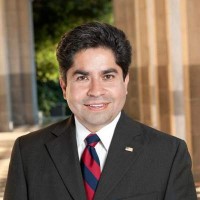 For Immediate Release: July 31, 2014
For More Information Contact: Maria Unzueta – mobile: (657) 464-4742

JOSE SOLORIO FOR STATE SENATE CAMPAIGN STARTS GENERAL ELECTION WITH OVER $625,000 CASH-ON-HAND
Campaign Raises Additional $300,000 During Recent Primary Campaign
SANTA ANA – The Solorio for State Senate Campaign announced today that after raising more than $300,000 during the recent June Primary time period, it will report a total of $625,211.34 cash-on-hand on its semi-annual campaign finance report which is due on July 31. Former State Assemblyman Jose Solorio is running to replace outgoing State Senator Lou Correa in the 34th State Senate District.
"Our campaign's momentum has grown dramatically over the last few months and I am very humbled to have a large and very diverse group of donors from business, labor, Democrats, and Republicans," said Solorio, who presently serves as a President of the Rancho Santiago Community College District Board of Trustees. "The response to our fundraising effort has been incredible and we are fully on track to fund our aggressive campaign plan in its entirety for this fall."
Solorio For Senate 2014
June 30, 2014 Campaign Finance Report
Total Contributions Received (Jan. 1 – June 30, 2014): $304,190.83
Cash-On-Hand (As of June 30, 2014): $625,211.34
The 34th district includes all or parts of the communities of Anaheim, Fountain Valley, Garden Grove, Huntington Beach, Long Beach, Los Alamitos, Midway City, Rossmoor, Santa Ana, Seal Beach and Westminster.
Jose Solorio is the President of the Board of Trustees for the Rancho Santiago Community College District, which oversees Santa Ana College and Santiago Canyon College, and represents 700,000 residents in the cities of Anaheim, Garden Grove, Irvine, Orange, Santa Ana, Tustin, and Villa Park. Prior to that, he represented the cities of Anaheim, Garden Grove and Santa Ana in the State Assembly for six years. He holds a bachelor's degree from UC Irvine and a master's degree in public policy from Harvard University. To learn more about Jose Solorio and his State Senate Campaign, please visit Facebook.com/Solorio4California, Twitter.com/JoseSolorio and SolorioForSenate.com.
###