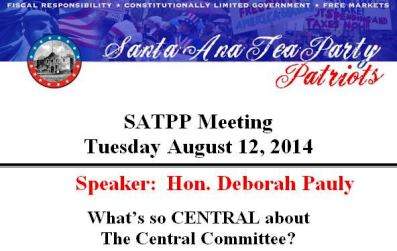 The Santa Ana Tea Party Patriots (SATPP) are hosting a meeting on Tuesday August 12, 2014, from 6:30 to 8 pm at the Green Parrot Villa, located at 2035 N. Main St., across from the MainPlace Mall.  (There is public parking on Main St. just south of the 5 Freeway, on the East Side of Main St., within easy walking distance of the Green Parrot Villa).
The Speaker will be Hon. Deborah Pauly, a City Councilwoman in Villa Park; a member of the Central Committee, and served in the US Air Force as a Public Affairs Specialist.
Deborah Pauly will answers these questions:
What's so central about the OC GOP Central Committee?
Who controls the GOP in Orange County? The Central Committee!
Who are the members? What do they do? How do they get there? What is their power? What should we expect from them?
The meeting will also include :
• Legislative update
• Announcements of events
• How to get involved
There'll also be time to share your thoughts and reactions.