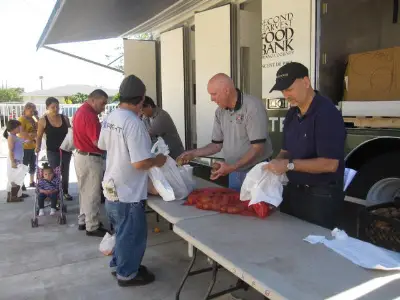 Second Harvest Food Bank and Bisnar Chase Feed 150 Orange County, California Families
Orange County Personal Injury Attorneys BISNAR CHASE team up with Second Harvest Food Bank for the fifth time to feed the area's hungry.
(PRWEB) February 17, 2012
The California Personal Injury Attorneys of BISNAR CHASE teamed up with Second Harvest Food Bank of Orange County recently to feed more than 150 families in Orange County, California.
This is the fifth time the law firm has teamed up with Second Harvest Food Bank to donate food to the hungry in Orange County.
Members of the BISNAR CHASE staff, along with their families, were on hand at Sons of Italy Lodge in Anaheim to distribute fresh produce and other food items as part of the firm's sponsorship to help the hungry in Orange County.
"The opportunity to help others in need in our community is a blessing," said Michael McClure, an associate at BISNAR CHASE. "Some individuals will always be less fortunate than others during different periods of their lives. When we have the resources to help one another, we're all recipients of love to our fellow man and should be thankful to have the ability to share in this love, friendship and goodwill."
Danielle Olson, executive assistant and coordinator of the BISNAR CHASE Second Harvest Food Bank sponsorship, says she, along with other members of the law firm, find it personally rewarding to give back to the community.
"We enjoy helping with the Second Harvest program because it puts things into perspective," said Olson. It feels good to be able to help our community and see the smiles on the kids' faces as they come through the food line with their parents knowing they will have fresh fruit and vegetables to eat. Second Harvest's motto of 'no questions just give' is a great motto for life, actually."
The Orange County Epidemic of Hunger
Hunger is an epidemic that affects people from all demographics. There are an estimated 615,000 individuals who struggle with hunger in Orange County and of these people, 77% of them do not qualify for government food assistance programs and solely rely on food banks for all of their meals.
Many Orange County individuals and families struggle to make ends meet each month. The Second Harvest Food Bank Program services those who have an income at or below the federal poverty level due to job loss, low wages, or homelessness, and for food emergencies that are temporary or long-standing.
If you or someone you love is in need, visit the Second Harvest Find Emergency Food web page to locate food near your Orange County neighborhood, such as Sons of Italy Lodge in Anaheim.
To show your support of Second Harvest Food Bank of Orange County and to let others know you care about the area's hungry, visit BISNAR CHASE on Facebook and "Like" the Second Harvest information provided there.
About BISNAR CHASE
The BISNAR CHASE law firm's Orange County, California personal injury attorneys represent people who have been very seriously injured or lost a family member due to an accident, defective product or negligence throughout California. The law firm has won a wide variety of challenging personal injury and defective product cases, involving car accidents, work related injuries, dog attacks and defective products. Visit the firm's blog at http://www.BestAttorney.com.
###