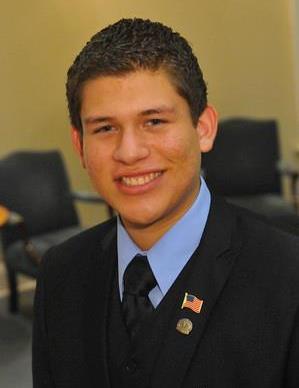 UPDATED: Our readers did it!  Jonathan Espinoza received over $300 in donations and then my friend David Boyd, who is an Orange County Board of Education Trustee (and who is also the Chancellor of the Taft University System, which includes the Taft Law School) offered to cover the balance of Espinoza's Georgetown University application fee, which came to $600.  A big thank you to our readers and to Mr. Boyd!  Congratulations Jonathan and good luck at Georgetown!
Segerstrom High School senior Jonathan Espinoza found out a few weeks ago that he is going to be able to attend Georgetown University on a full scholarship – but he recently received a letter, from Georgetown University, advising him that he has to come up with $900, for a registration fee, by May 1.  His family just doesn't have that money available.
Espinoza has succeeded in high school despite growing up in serious poverty.  Over the years his teachers have often stepped up and mentored him, even buying him dinner on occasion.  Now he needs our help again – and I am hoping that our readers will step up and donate funds so he can register and attend Georgetown University, where I know he will represent Santa Ana with class and distinction.
Espinoza has volunteered in our city for years – and he is currently a Santa Ana Youth Commissioner.  He also has found time to participate in the Segerstrom High School band.  Our readers selected him as our 2011 Santa Ana Man of the Year for a reason!
Espinoza has set up an account on Paypal.com.  You can donate to him via Paypal using his email address, which is jonathan.espinoza94@gmail.com.  You may also contact him at that email address if you would like to send him a check instead.
Espinoza has promised to return to Santa Ana when he graduates.  I know he will work hard to make our city a better place for everyone.  Please do what you can to help him!