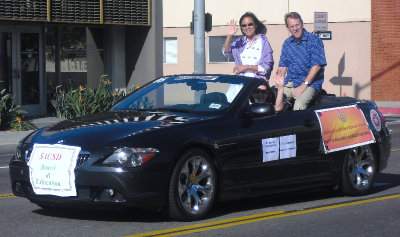 FOR IMMEDIATE RELEASE: August 12th, 2014
Contact: Eric Hogensen, 323-761-9514
Santa Ana School Board Clerk Rob Richardson Endorses Rigo Rodríguez for School Board
(Santa Ana) – Santa Ana School Board Clerk Rob Richardson announced his endorsement of Dr. Rigo Rodríguez for Santa Ana School Board today.
Richardson stated: "As an educator and active community member, Rigo Rodríguez has dedicated his career to strengthening the Santa Ana community through education. As a School Board member, Dr. Rodríguez will continue to lead efforts to improve schools for our children. He will fight for what is best for our students, I have confidence in him to lead our District forward."
Rob Richardson has been a longtime leader in the Santa Ana community. He served on the Santa Ana School Board from 1987-1990, after which he served as a Councilmember and Mayor Pro Tem for eight years. In 2003, Richardson returned to the School Board where he served another five years as President working to improve the quality of education in Santa Ana and he continues on the Board. He currently serves as an administrator for the County of Orange.
"I'm humbled by the generous and supportive comments Rob Richardson made today," Rodríguez said. "Rob has been a truly influential member within our community and our School District. If elected, I look forward to working with Rob to move our District forward. His confidence and faith in my ability to improve the District is an expectation I proudly look to fulfill."
Dr. Rigoberto (Rigo) Rodríguez is an educator, small business owner, and respected Santa Ana community advocate. The son of an immigrant family, he serves as an Associate Professor at CSU Long Beach, President of the INNOVA Group, Inc., and Senior Associate for the Center for the Study of Social Policy. Rigo is a current member of the Board of Trustees for the Delhi Community Center in Santa Ana, and previously served on the City of Santa Ana's Community Redevelopment and Housing Commission and Planning Commission. Rigo and his wife, Rosalba Hernández, live in Santa Ana with their three children, Nadya, Emilio, and Katya.
–30–