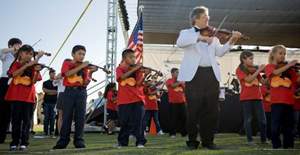 FOR IMMEDIATE RELEASE: June 5, 2013
Contact: Deidra Powell, Chief Communications Officer, (714) 558-5555 Office, (714) 673-4995 Mobile
Media Advisory: SANTA ANA STRINGS WRAPS UP ITS FIRST YEAR WITH A FINAL PERFORMANCE FEATURING ASSISTANT CONDUCTOR
ALEJANDRO GUTIÉRREZ AT PACIFIC SYMPHONY'S "PLAZACAST," JUNE 8
Event: Inspirational fourth and fifth-grade violinists from Santa Ana Strings (SAS)—a new program launched last summer as a three-way partnership between Pacific Symphony, Santa Ana Unified School District (SAUSD) and THINK Together—show off all they've learned this past year during a final public performance at Pacific Symphony's "Inside and Out" Plazacast and Community Celebration.
Since its inception, the strings program has grown from 150 students to nearly 250 aspiring musicians and is generously supported by a Getty Education and Community Investment Grant from the League of American Orchestras and Newport Beach arts philanthropists Mary and Phil Lyons.
SAS is designed to foster creativity, discipline, perseverance and self-esteem, as well as develop teamwork skills, while strengthening school music programs and building parental support for them. For the third performance this year the children's ensemble performs short works alongside Symphony musician coaches, plus an exciting modified version of the theme from "Pirates of the Caribbean," led by special guest, Assistant Conductor Alejandro Gutiérrez.
Who:
· Santa Ana Unified School District 4th and 5th Grade Students
· Pacific Symphony
· THINK Together
· District and partner representatives
When: Saturday, June 8, 2013
This free event starts at 5 p.m., with SAS performing at 6:45 p.m. and the Symphony's concert, "Rite of Spring Turns 100" beginning at 8 p.m. A dress rehearsal with Gutiérrez takes place June 6 at Carr Intermediate from 4:30-5:30 p.m. The media is encouraged to attend as students prepare for their final performance.
Where: Segerstrom Center for the Arts
600 Town Center Dr Costa Mesa, CA 92626
Photo Ops: Fourth and fifth-grade violinists from Santa Ana Strings (SAS)
###