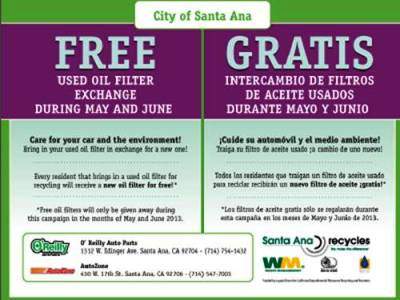 Santa Ana residents can receive FREE oil filters just by recycling their old ones, through the end of June, courtesy of O'Reilly Auto Parts, AutoZone and Waste Management.
Every resident that brings in an old oil filter to select locations will get a new one for free!  Take the old filters to O'Reilly Auto Parts, at 1312 W. Edinger, in Santa Ana (Phone: 714-754-1432) or to the AutoZone at 430 W. 17th. St., in Santa Ana (Phone: 714-547-7003.
How can I dispose of used motor oil?
The City provides curbside used motor oil and filter collection at no charge. Contact Waste Management at 714-558-7761 to receive your FREE oil container and filter bag. After you have filled the container with used motor oil, and placed your used oil filter in the plastic bag, call Waste Management to schedule a pickup. Your oil and oil filter will be picked up on your next regularly scheduled refuse collection day and a new empty container and oil filter bag will be left for your next oil change. DO NOT dump used motor oil into storm drains as they flow to the ocean.
How can I dispose of household hazardous waste?
If you have pesticides, cleaners, batteries, pool chemicals and paints in addition to other chemicals found around your home, proper disposal facilities are nearby. The County of Orange offers FREE DISPOSAL for household hazardous waste at several locations close to Santa Ana. The collection centers are open Tuesday through Saturday from 9 a.m. to 1 p.m. Please call 714-834-6752 for more information. The following are collection locations:
Anaheim
1071 North Blue Gum Street

Irvine
6411 Oak Canyon (Next to City Yard)

Huntington Beach
17121 Nichols Street (Use Gate 6)