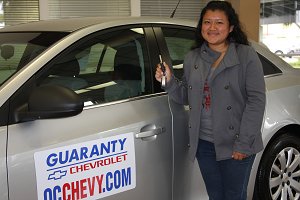 FOR IMMEDIATE RELEASE: June 7, 2013
Contact: Deidra Powell, Chief Communications Officer, (714) 558-5555 Office, (714) 673-4995 Mobile
MEDIA ADVISORY: Saturday, June 8 Car Giveaway
One High School Student with Perfect Attendance Will Win a 2013 Chevy Spark!
Event: Guaranty Chevrolet is donating a brand new 2013 Chevy Spark to one lucky student in the Santa Ana Unified School District who has had perfect attendance all year long. This is the seventh year that Guaranty Chevrolet has offered the incentive to keep high school students' attendance on track. Nearly 700 high school students in grades 9 through 12 are eligible to participate in the drawing for a new car.
Date: Saturday, June 8, 2013
Time: 10:00 a.m.
Location Guaranty Chevrolet
711 E. 17th Street, Santa Ana, CA 92701
714-973-1711
For additional information call (714) 558-5555.
###