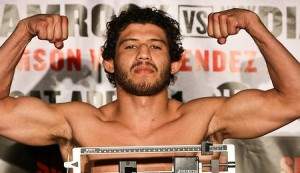 Santa Ana City Council proclamations are usually overlooked, however one that should have been noted was the honoring of Santa Ana's own Ultimate Fighting Championship (UFC) title contender Gilbert "El Nino" Melendez for winning the Strikeforce Lightweight Championship and ranking #2 in his weight division.
Santa Ana Councilwoman Michele Martinez issued the proclamation at the Council meeting on Monday, June 3, 2013.  The City Council also honored Melendez for being a positive influence and representative of Santa Ana in the sports world.
Melendez, a Mexican-American, is from Santa Ana, California, and wrestled during high school. Melendez always enjoyed combat sports and competition, but did not start training in MMA until after college when he was introduced to the sport by his good friend and MMA fighter Jake Shields. Melendez attended San Francisco State University and was studying in liberal arts, he anticipated becoming a teacher but did not finish his college education and get a degree, on account of training for MMA and working outside of college. He has stated that someday he plans on finishing his college education. Before becoming a professional fighter, he worked as a waiter and he also had a job at a Fairtex gear shop, which would later be one of his sponsors. (Source: Wikipedia).
Melendez (21-2) has spent the last few years in his MMA organization mopping up the competition and waiting for an opportunity in the UFC. Currently on a seven-fight winning streak, "El Nino" has defeated all of his opponents with ease over the past four years besides a hard-fought trilogy he won against Josh Thomson that includes his last loss. Melendez has trained in the famed Cesar Gracie fight camp, and the 30-year-old Bay Area native has the best of the best to work with in terms of stand-up and grounds games. Working out with elite fighters like the Diaz brothers and Jake Shields, it is hard not to be impressed by his training regime. (Source: MMA Oddsbreakers).
Congratulations to Melendez!  Follow him on Twitter here.