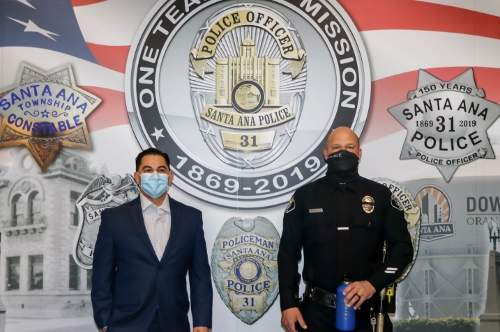 Santa Ana Police Officer Bradley Sharp is the most recent police officer to be honored by Fairhaven Memorial Park & Mortuary in recognition for his impeccable investigative and reporting skills.
The "Responders First" award program from Fairhaven Memorial was created to honor and recognize police officers on a quarterly and annual basis from the Santa Ana Police Department. This program is to recognize their above and beyond courage and commitment to serving the Santa Ana Community.
Officer Sharp is currently assigned to the Santa Ana Police Department's Field Operations Bureau – Patrol Division. During 2020, Officer Sharp was assigned to a team comprised of young, dedicated officers with limited law enforcement experience. During Officer Sharp's (7) year term as a Santa Ana Police Officer, his superiors have quickly recognized him as a proven leader capable of serving as both a resource and an example for less experienced officers.
"We have a hard-working police department here in Santa Ana and officers like Bradley Sharp are a great example," said Gregory Morones, General Manager at Fairhaven Memorial Park & Mortuary. "The dedication he shows for protecting the citizenry through his investigative work is to be commended, and that's just what we've done."
A noteworthy example of Officer Sharp's investigative ability was a burglary involving three suspects threatening a victim at gunpoint. According to his nomination, Sharp conducted a thorough investigation with victim and witness interviews, canvassing the area, checking internal records and scoured social media. He was able to assemble a lineup of suspects that resulted in a positive identification of one suspect, who led detectives to another suspect.
One detective had particularly high praise for Officer Sharp, noting that he is confident that any case with Officer Sharp as the handling officer is sure to have a rigorous investigation and a thorough, complete report.
Court Liaison Supervisor Corporal Kim concurred, adding, "Officer Sharp's reports and investigations are always thorough and detailed. In my opinion, he is one of the best investigators and report writers in patrol. I hope his team is learning from him."
Officer Sharp's nominator, Commander Joseph Marty, summarized the department's view of the award winner: "Sharp encapsulates the SAPD mantra of 'one team, one mission.'"
About Fairhaven Memorial Park & Mortuary
Founded in 1911 by Oliver Halsell to provide a peaceful and comforting place for families to honor their loved ones, Fairhaven Memorial Park & Mortuary is one of Orange County's most beautiful full-service mortuaries. Fairhaven provides funeral, cremation and burial services both at the time of need and through advanced planning, maintaining its steadfast commitment to care and compassion. Fairhaven is dedicated to celebrating the individual, providing services that are as unique and wide-ranging as the people celebrated.