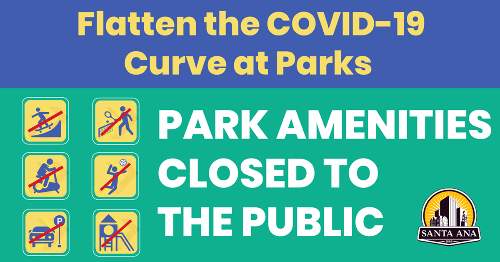 The City of Santa Ana is closing its playgrounds, volleyball courts and tennis courts beginning Wednesday, April 1, in order to prevent gatherings and protect the public from COVID-19.
The City has already shuttered its enclosed parks, recreation and other facilities and canceled all programs and classes except the take-out senior meals program. Those include:
• Community centers
• Skate parks
• Cabrillo Tennis Center
• Santa Ana Stadium
• Santa Ana Zoo
• Senior centers
• Parking lot gates at some parks
• Cabrillo Tennis Center
• Libraries
• River View Golf Course
All of these amenities will be closed until further notice.
Santa Ana's outdoor, unenclosed park areas remain open to the public, but group sports and gatherings are prohibited and people should stay at least 6 feet away from others.
For news, resources and video updates from Santa Ana Mayor Miguel A. Pulido about COVID-19, please visit www.santa-ana.org/covid19.
###
La Ciudad de Santa Ana está cerrando sus parques infantiles, canchas de voleibol y canchas de tenis a partir del miércoles 1 de abril, para evitar reuniones y proteger al público de COVID-19.
La Ciudad ya cerró sus instalaciones encerradas de parques, recreación y otros usos y canceló todos los programas y clases, excepto el programa de comida para llevar para personas mayores. Estos incluyen:
• Centros comunitarios
• Parques de patinaje
• Centro de tenis Cabrillo
• Estadio de Santa Ana
• Zoológico de Santa Ana
• Centros de adultos mayores
• Puertas de los estacionamientos en algunos parques.
• Centro de tenis Cabrillo
• Bibliotecas
• Campo de golf River View
Todos estos servicios estarán cerrados hasta nuevo aviso.
Las áreas de parque al aire libre y no cerradas de Santa Ana permanecen abiertas al público, pero los deportes grupales y las reuniones están prohibidos y las personas deben mantenerse al menos a 6 pies de distancia de los demás.
Para noticias, recursos y actualizaciones de video del alcalde de Santa Ana, Miguel A. Pulido, sobre COVID-19, visite www.santa-ana.org/covid19.