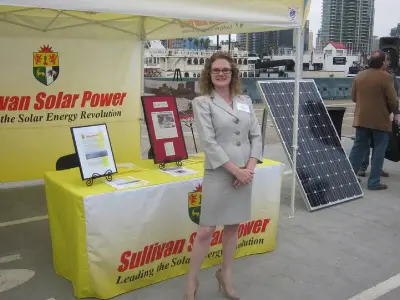 News Release, FOR IMMEDIATE RELEASE
For More Information: Anne Bessinger, Community Developer, 1-800-SULLIVAN ex.214
March 16, 2012
SANTA ANA SOLAR PROGRAM GAINS COMMUNITY SUPPORT
Final Solar Program Event Takes Place For Santa Ana Residents
SANTA ANA, CA (March 16, 2012) – A community incentive program has been created exclusively for residents in the Santa Ana and North Tustin community who are interested in getting solar power installed on their properties. Just over a month into Santa Ana's Solar Program, community members are already beginning to embrace the concept of a Santa Ana solar community. To learn about the program, a final informational luncheon event is taking place on Saturday, March 26 at 11a.m. in Santa Ana's Delhi Community Center.
This will be the second event to take place in the community for property owners in Santa Ana and North Tustin. Residents who attend learn about solar technology, state rebates and federal incentives as well as the Santa Ana Solar Program details. The innovative solar program allows property owners to go solar for nothing out of pocket and receive cash-back on top of the statewide and national incentives.
Community residents who attended the first event said they were excited to learn that they to go solar for no upfront cost and have monthly payments less than their current electric bill.
"The program we are offering makes it possible for Santa Ana and North Tustin property owners to go solar, save money monthly, and then receive a check," said Daniel Sullivan, of Sullivan Solar Power who administrates the program, "We are essentially paying residents to go solar."
Following the preliminary seminar luncheon, Sullivan Solar Power representatives had the chance to meet with Congresswoman Sanchez. The group talked about the Santa Ana Solar Program and her commitment to energy efficiency. She was happy to hear of the good nature of the program and her constituents' interest in renewable energy.
If you were unable to attend the first community event, the second informational luncheon will be held on March 24th in the Delhi Community Center at 11AM. The seminar will last for one hour and lunch will be provided. Free to attend; RSVP is appreciated. Additional information on the program can be found by calling 1-800-SULLIVAN or by visiting www.SantaAnaSolarProgram.org.
About Sullivan Solar Power
Sullivan Solar Power is a turnkey solar system provider that delivers solar electric projects from concept to completion. The company has installed over 7,000,000 watts of solar power ranging from small-scale residential to large-scale commercial and municipal systems. Sullivan Solar Power is locally based out of San Diego, CA and owned and operated by Daniel Sullivan. The firm is San Diego's number one local turnkey solar provider and services all of Southern California. Regardless of project size and scope, Sullivan is committed to delivering the best products and the most qualified professionals to its customers. Visit www.sullivansolarpower.com for more information.
###