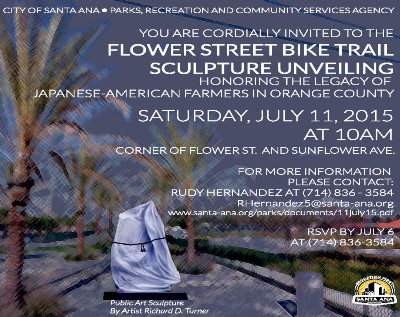 City of Santa Ana, Downtown Orange County
Community Alert: PUBLIC ART SCULPTURE UNVEILING PAYS TRIBUTE TO THE JAPANESE-AMERICAN FARMING LEGACY AT THE NEW SANTA ANA BICYCLETRAILHEAD
A public art sculpture will be unveiled at the new Flower Street bike and walking trail. The sculpture marks the trail entry into the City of Santa Ana from the City of Costa Mesa trail on the northeast corner of Flower and Sunflower Streets. The new trail takes bikers, runners, and walkers one-mile north on Flower Street to Alton Street, which will connect to the Santa Ana River Trail system.
On Saturday, July 11, 2015 at 10 AM, a sculpture designed by artist Richard Turner will be unveiled at the trailhead. The sculpture will be unveiled and shown to the public for the first time. The art was chosen through a competitive art selection process managed for the City by Arts Orange County. Mr. Turner's concept was commissioned by the City of Santa Ana because it creatively shows the contributions of the Japanese American farmers in the region and adds to the richness of our common diverse cultural heritage. Mr. Turner's vision showcases a signature crop that was commonly grown in this area by Japanese-American farmers. The design also symbolizes the beauty and simple legacy style of Japanese gardens.
The public is welcome to join the City Council, neighborhood leaders, the artist community, representative from Japanese-American families from the region, the Arts and Culture Commission and the Board of Recreation and Parks to the unveiling of this $80,000 art project. The artists, Richard Turner, will be in attendance. The project was funded by a Recreational Trails and Transportation Enhancement Activity grant the City obtained to build the one-mile dedicated bike trail on Flower Street.
"This is a great project for the community. Adding one-mile to our bike trail system and a beautiful public art sculpture that reminds all of us of the rich legacy of the Japanese American farming community that contributed so much is very special to this area of our City," said Mayor Pro Tem Vince Sarmiento.
For more information on the event, including parking information click here.
You can also obtain more information by calling Rudy Hernandez at (714) 836-3584.
###