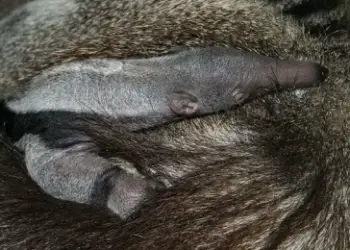 Check out the baby anteater at the Santa Ana Zoo, for free this Sunday!
This Sunday, November 20, is the third Sunday of the month and you know what that means… Free Santa Ana Resident's Day at the Santa Ana Zoo, at Prentice Park.  Click here for directions.  Click here to visit the Zoo's Facebook page.
If you live in the city of Santa Ana, get free admission to the Zoo on Sunday, November 20.
The third Sunday of each month is a free day for residents, and one of the perks of living in the city. Come and see what's new at the Zoo!  (Up to 4 per household, proof of address required).
Bonus – Meet the University of California Master Gardeners, on November 19-20, from 11am – 3pm.  Fun activities and helpful information for the gardening enthusiast.  FREE with price of admission.
Coming Soon – Holiday with the Critters!
The Zoo entrance and farm area will be transformed into a winter wonderland, with lighted displays, enchanting animals, seasonal music, arts and crafts tables, train rides, and storytelling.
12/17: City of Santa Ana and Seniors Night. City residents, employees and all seniors get in free.
12/18: Member Appreciation Night. FOSAZ Members get in free.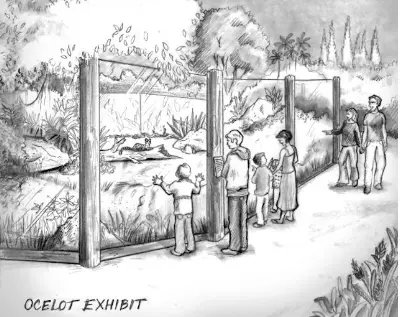 Ocelots are beautiful "exotic" wild cats from South America, often described as "miniature cheetahs." There are currently only 26 Brazilian Ocelots in the United States, and we are bringing two to the Santa Ana Zoo. Since 2002, the Santa Ana Zoo has been working with the Association of Zoos and Aquariums' Brazilian Ocelot Consortium and the government of Brazil to play a role in the ocelot's survival. The ocelot currently is classified as an endangered species, and the Santa Ana Zoo has been one of ten U.S. zoos involved with the consortium.
The ocelot is said to be a picky eater—even more so than other cats! Other cats remove feathers and fur from their prey as they eat it, but ocelots pluck off all the feathers and fur from animals that they catch before they eat them!
The scientific name, Leopardis pardalis, means "like a leopard," but there are no leopards in North or South America, where ocelots are found. They actually got their common name from the Aztec word tlalocelot, which means "field tiger."
A male ocelot keeps a territory that overlaps four or five females' territories so he can easily find a mate. He is not so friendly to his male next-door neighbors, though; male ocelots mark their territories so that all other males know they must stay away!
How can I help?
You can help support our upcoming Ocelot Habitat by donating today.
When you click here to donate, every dollar will go directly toward supporting this and other important and unique exhibits. It is a rare opportunity to be given the chance to help create something so educationally important, so visually stimulating, and so powerful in its conservation message, that it will become a living, growing legacy for many generations to come.
For those of us who are proud to live in Orange County and share the magic and joy of the Santa Ana Zoo, we know that our rare opportunity is now and that it is the perfect time to begin building our future. Our future at the Santa Ana Zoo is a cutting-edge vision – creating four major biomes of the South American Neo-tropics that will thrill our 70,000 school children and our 250,000 visitors each year.
Do you feel the excitement and share our vision? We hope so, because we need your help to support the ongoing dream of the upcoming Ocelot Exhibit!