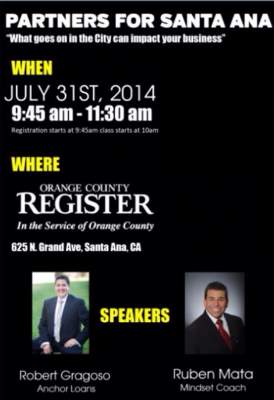 The next "Partners for Santa Ana Live Event is set for this Thursday, July 31, 2014 from 9:45 am – 11:30 am at the Orange County Register, located at 625 N Grand Ave., in Santa Ana.
This event is hosted by Charles' Armijo and Sean Mill.  The event will feature speakers Robert Gragoso of Anchor Loans and Ruben Mata, a Mindset Coach.
The event is free for realtors. There is a small fee for others who may want to attend.  The proceeds will be donated to the Santa Ana Boys and Girls Club.  
Presentation Topics include:
How to prosper in any market
Smart ways to increase your volume
How to get started flipping properties
Go from selling ten properties a year to more than forty
For more info and seating, which is limited, call 714-865-0003 or 714-858-1145.