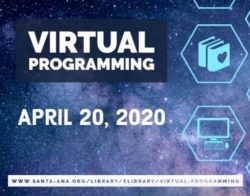 The Santa Ana Public Library will offer virtual programming for adults, teens and children beginning Monday, April 20, while libraries are closed due to the COVID-19 pandemic.
Patrons will have opportunities to engage with programming that inspires literacy, creative thinking, mindfulness and connection with each other. These programs will launch during National Library Week, which is April 19-24, and will continue through the spring season.
TEA AND CIVILITY VIRTUAL BOOK/READING CLUB
Mondays and Thursdays, 4-5 p.m. (Tea Time)
Adult library patrons are invited to have a cup of tea and join us in a chat about books and reading via Zoom. Engage in mindfulness, civility, warmth and mutual connection over an appreciation for books, and reading. Registration is required for this program.
CHILLZONE: ONLINE TEEN LIBRARY CLUB
Tuesdays and Fridays, 3-4 p.m. (Chill Time)
Tweens and teens are invited to join us at our virtual ChillZone live chat. Tweens and Teens will have opportunities to connect with each other and share their interesting stories, books, gaming experience and general observations about the world around us via Zoom. They will also be able to participate in creative on-the-spot storytelling via our Story Circle at the ChillZone. Registration is required for this program.
STORYTIMES WITH MS. MICHELLE
Join us for all your storytime favorites, online! We will read stories, sing songs, share rhymes and help inspire a lifelong love of reading. Videos will be available anytime at www.YouTube.com/SantaAnaLibrary and no registration is required.
Visit the Library's website at www.santa-ana.org/library/elibrary/virtual-programming for more information and instructions on how to access and participate in these programs.
La Biblioteca de Santa Ana Empieza Programas Virtuales
La Biblioteca Pública de Santa Ana ofrecerá programación virtual para adultos, adolescentes y niños a partir del lunes 20 de abril, mientras que las bibliotecas están cerradas debido a la pandemia de COVID-19.
Los usuarios tendrán oportunidades para participar en una programación que inspira la alfabetización, el pensamiento creativo, la conciencia plena y la conexión entre ellos. Estos programas se lanzarán durante la Semana Nacional de la Biblioteca, que es del 19 al 24 de abril, y continuarán durante la temporada de primavera.
CLUB DE LECTURA / LIBRO VIRTUAL DE TÉ Y CIVISMO
Lunes y Jueves, 4-5 p.m. (La Hora del Té)
Los usuarios adultos de la biblioteca están invitados a tomar una taza de té y acompañarnos en una charla sobre libros y lectura a través de Zoom. Participe en la consciencia plena, el civismo, la cordialidad y la conexión mutua a través de una apreciación por los libros, y la lectura. Se requiere registro para este programa.
ZONA DE RELAJACIÓN "CHILLZONE": CLUB DE BIBLIOTECA EN LÍNEA DE ADOLESCENTES
Martes y Viernes, 3-4 p.m. (Tiempo para Relajarse)
Se invita a los preadolescentes y adolescentes a acompañarnos en nuestro chat virtual en vivo de "ChillZone." Los preadolescentes y adolescentes tendrán la oportunidad de conectarse entre sí y compartir sus historias interesantes, libros, experiencia de videojuegos y observaciones generales sobre el mundo que nos rodea a través de Zoom. También podrán participar en la narración creativa improvisada a través de nuestro Círculo de Cuentos (Story Circle) en "ChillZone." Se requiere registro para este programa.
LA HORA DEL CUENTO CON MS. MICHELLE
¡Acompáñenos, en línea, para todos sus favoritos hora de cuentos! Leeremos historias, cantaremos canciones, compartiremos rimas y ayudaremos a inspirar un amor por la lectura de siempre. Los videos en línea van a estar disponibles en www.YouTube.com/SantaAnaLibrary y no es necesario registrarse.
Visite el sitio web de la Biblioteca en www.santa-ana.org/library/elibrary/virtual-programming para obtener más información e instrucciones sobre cómo acceder y participar en estos programas.