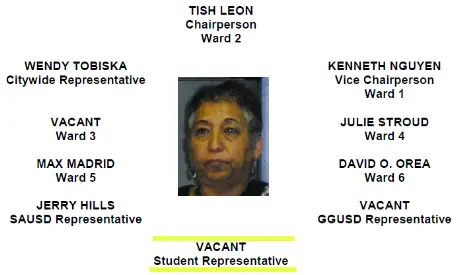 Time to let Santa Ana Parks and Rec Chair Tish Leon know how we feel about her bullying
If you are as upset as I am at the bullying behavior of Santa Ana Parks and Recreation Commissioners Tish Leon and Julie Stroud, who terrorized a Student Commissioner so badly that he quit their Commission, here is your chance to let your voice be heard.
The next Santa Ana Parks and Recreation Commission meeting is on Wednesday, July 28, at 5:30 pm, at the Santa Ana Main Library, in Room A, located at 26 Civic Center Plaza. Click here to read the meeting agenda.  The public will have an opportunity to comment at this meeting.

Unbelievably, the agenda includes yet another honor to be bestowed upon Minuteman and former OC GOP Central Committee Member Lupe Moreno.  She took over not only this year's Santa Ana Independence Day event, but also she is now the head of the Friends of the Santa Ana Library.  And the Santa Ana Parks and Rec Commission will be bestowing yet another award on her in that capacity, for "Special Service to the Community."  Click here to see proof that Moreno is indeed the President of the Friends of the Library.
You may recall that Councilman David Benavides honored Moreno and her Minutemen at the last Santa Ana City Council meeting, much to the chagrin of his Council colleagues, who lambasted Benavides.  That scandal ended up in the pages of both the OC Weekly and the O.C. Register.
So you will have two items to speak out about on Wednesday.  I urge you to ask Leon and Stroud to resign, in light of what they did to their former student commissioner, and I also recommend that our residents speak out about this latest honor being given to Moreno.  For shame!  Extremist Minutemen should not be receiving honors in our city!
UPDATE:  Victory!
I received this note early today, from Santa Ana Parks and Recreation Agency Director Gerardo Mouet:
Earlier this week, I spoke to several members of the Board of Recreation and Parks on an individual basis and all expressed their preference to pull this item from their Board agenda.  This agenda item has been pulled and the Friends of the Library have been notified.  The Board of Recreation and Parks agenda is being revised and when posted on the web later today, it will not have the Special Service to the Community Presentation to the Friends of the Library.

Let me know if you have any questions.
Keep in mind the fact that I just stumbled across this scandal yesterday and the Commission meets tonight.  I made sure to save the original agenda on my own server, just in case.
I am thrilled that Mouet and his Commissioners have stopped Leon and Stroud in their tracks.
I did speak to a Commissioner, who asked to remain anonymous.  He assured me that the list of honorees was submitted to the Commission by Leon – and Stroud.  They would not allow the other Commissioners to change that list, even after some of them complained.  Bullies!  For now they have been thwarted but the only real solution will be for the City Council to dismiss these rogue Commissioners with the greatest haste.