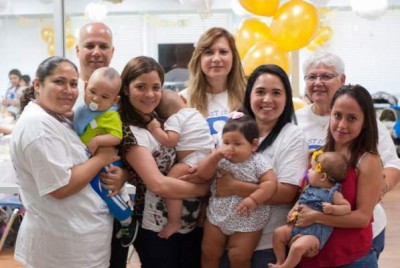 MOMS ORANGE COUNTY RECOGNIZES MOTHERS WHO COMMIT TO BREASTFEEDING SUCCESS
Santa Ana, Calif. (August 11, 2015) – More than 40 mothers who successfully completed breastfeeding education programming and support groups through MOMS Orange County, a nonprofit organization serving low-income pregnant women for more than 22 years, were recognized for their efforts and dedication at the MOMS Orange County Breastfeeding Recognition Luncheon on Friday, August 7, 2015. The recognition event, held during World Breastfeeding Week at MOMS Orange County in Santa Ana, emphasized the importance of breastfeeding for both baby and mother, and featured opportunity drawings, giveaways and a luncheon.
Breastfeeding education and support is an integral component of MOMS Orange County's curriculum. The organization is not only educating mothers but also provides the often-missing support system they require to breastfeed with confidence.
"Our organization helps mothers overcome their anxieties and challenges so they can have a successful breastfeeding experience and their babies are as healthy and happy as possible," said Pamela Pimentel, RN, CEO of MOMS Orange County. MOMS Orange County is a safe place for new mothers to ask questions and clarify, confirm or dispel any misconceptions they may have learned about breastfeeding. The organization also works with some women who may not have had the opportunity to learn from a lactation consultant, and the nonprofits' breastfeeding coordinator is trained to teach mothers how to feed their baby and help women overcome common breastfeeding challenges, such as latching difficulties, painful nursing and low milk production.
Nayeli Castillo, a resident of Anaheim shared her breastfeeding experience with the audience. "It was not easy and it still isn't". Nayeli breastfed her first child, who is now 5, for 13 months, but with her daughter Luna, who is now 4 months old, it has been a little bit more difficult. "I just started an internship as a medical assistant and I am also working. I work from 3 – 11 p.m. but there I am, every 3 hours, pumping for her." says Nayeli. She encourages mothers who say they can't breastfeed their child because of work. "My daughter has not had one ounce of formula. It is possible. You can do it!"
MOMS Orange County believes that one of the best ways to empower women to commit to breastfeeding is to highlight the many benefits to both mother and baby, and provide support and encouragement.
According to the American Academy of Pediatrics, babies who are exclusively breastfed for six months are less likely to develop ear infections, diarrhea and respiratory illnesses, and may be less likely to develop childhood obesity.
MOMS Orange County offers a series of Spanish-language prenatal breastfeeding classes that provide education, resources and instruction to pregnant women who plan to breastfeed, as well as weekly breastfeeding support groups after the birth.
The breastfeeding coordinator for the nonprofit can even provide special newborn home visits dedicated to breastfeeding and is available for phone consultation for urgent breastfeeding issues.
MOMS Orange County is recognizing National Breastfeeding Awareness Month in August — as well as World Breastfeeding Week from August 1-7 — not only at the event, but by promoting breastfeeding as the healthiest way to feed infants all-year round.
Attendees were treated to gifts and opportunity drawings generously donated by the following: Martha's Market – Santa Ana, Avon – Tammy Lee, Edible Arrangements – Garden Grove, Trader Joe's – Santa Ana, Ralphs – Orange, Vons – Garden Grove, Stater Brothers – Santa Ana, Fragrance.net, and PinkBlush Maternity.
About MOMS Orange County
For over 22 years, MOMS Orange County has been helping at-risk mothers and their families have healthy babies by providing access to prenatal care, health screenings, infant development screenings, health education and referral services through monthly home visits and group classes. Mothers receive one-on-one education and support during pregnancy to help increase their chance of delivering a healthy baby. After babies are born, the focus turns to promoting their healthy growth and development so they grow up happy, healthy and ready to learn. To learn more about MOMS Orange County, visit www.momsorangecounty.org.
###