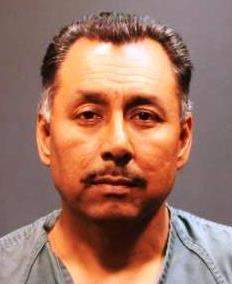 Santa Ana Police Department
Advisory: Arrest made in Investigation of hit and run vehicle
SAPD Traffic Investigators locate vehicle and suspect in Felony Hit and run case
On 9-2-2014 at approximately 1200 PM Traffic Investigators located the vehicle and suspect in the area of Willits and Raitt in the City of Santa Ana. Suspect was taken into custody without incident.
Guillermo Velasquez Flores was taken to SAPD and questioned about the traffic collision. Based on their investigation, Traffic Investigators arrested suspect Guillermo Velasquez Flores, for CVC 20001 Felony Hit and Run, the suspect was booked into the SAPD jail. The case will be submitted to the Orange County District Attorney for formal charges. 
Details: On 9/01/2014, officers responded to the scene of a traffic collision involving a sport utility vehicle and a passenger car at the intersection of North Broadway and West Santa Ana Boulevard.
At about 1852 hours, a 2000 Nissan Xterra driven by the registered owner was traveling north on Broadway with his wife riding as passenger. As the Nissan drove through the intersection at Santa Ana Boulevard, it was struck by a passenger car traveling west on Santa Ana Boulevard.
The impact caused the Nissan to swerve and drive up over the east curb and hit a parkway tree. The driver of the passenger car fled the scene, making no attempt to stop or check on possible injuries to occupants of the Nissan. Both occupants of the Nissan sustained traumatic injuries and were transported to an area hospital for treatment.
Evidence collected indicates the hit and run suspect vehicle is a 1998 Dodge Stratus, light green, CA License #6TUK359. Any person who has seen this vehicle or has additional information about this collision is asked to call Investigator Bao at (714) 245-8214 or Orange County Crime Stoppers 1-855-TIP-OCCS.
Arrested: Guillermo Velasquez Flores (45) Santa Ana
Charges: CVC 20001 – Felony Hit and Run traffic collision
###