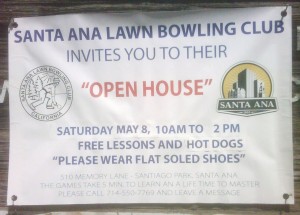 I noticed the banner shown in the picture above, when I was walking my dog today, at Santiago Park.  It would appear that the Santa Ana lawn Bowling Club is trying to promote their sport, even as the Santa Ana Parks and Recreation Agency and the Santa Ana City Council have been considering other uses for the Santa Ana Lawn Bowling Center.
The Club posted this notice on the City of Santa Ana's Community Calendar:
The Santa Ana Lawn Bowling Club is having an Open House on Saturday, May 8, from 10am to 2pm.
There will be free hot dogs and drinks.  The Club is hoping for more people to learn lawnbowling.
For more information call 714 544-1256.
Predictably, the Lawn Bowling Club did not post any information in Spanish, nor is their banner bilingual.  Make of that what you will.