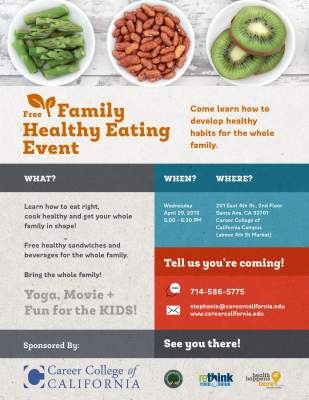 Career College of California (CCC) is hosting a Family Healthy Eating Event in Santa Ana on Wednesday, April 29th, 2015, from 5:00 PM – 6:30 PM.
Learn how to eat right, cook healthy, and get your whole family in shape!
Let's face it, healthy eating is the solution to many of our daily complaints. "I need to lose weight," "I'm always so tired," "I'm not in a good mood today." Sound familiar? Research has shown that healthy eating can improve your mood, increase your energy, and promote weight loss. Even though we all know or have heard of this, it's still hard to eat healthy. Come to our event to learn the easy and affordable ways to get your family eating right!
Kids welcomed!  Healthy Sandwiches and Beverages Provided!
The event will be held at the Career College of California Campus, located at 201 E. 4th Street, Ste. 200, in Santa Ana.
Call Stephanie to RSVP at (714) 586-5775 or click here.