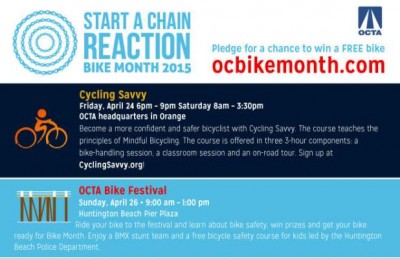 FOR IMMEDIATE RELEASE: April 22, 2015
FOR MORE INFORMATION: Joel Zlotnik (714) 560-5713, Eric Carpenter (714) 560-5697
Bicyclists are invited to participate in OCTA's Bike Month events
ORANGE – Bicyclists of all ages can improve their health, help the environment and cut the cost of driving by celebrating Bike Month with the Orange County Transportation Authority.
Bike Month was established nearly 60 years ago to showcase the benefits of bicycling and to encourage more people to try it. Those who pledge to participate in Bike Month in May at www.OCBikeMonth.com will be entered for a chance to win a free bike.
Get ready for Bike Month at OCTA's annual bike festival from 9 a.m. to 1 p.m. April 26 at the Huntington Beach Pier Plaza. Kids can enjoy a safety course led by the Huntington Beach Police Department along with a helmet decorating station and a chance to win a free helmet. There will also be a BMX stunt show, information about bike safety and local vendors and organizations.
Bike Month festivities continue at OCTA's bike rally from 7:30 to 8:45 a.m. May 7. Meet local elected officials, OCTA board members and staff at the Orange Metrolink Station. From there, bike three miles through Old Towne Orange, along the Santiago Creek Trail and end at OCTA headquarters on Main Street. The event serves as a preview for Bike to Work Week, which is May 11-15.
Additional Bike Month events include:
· May 6 : Drop your bike off at Latino Health Access in Santa Ana between 7 and 9 a.m. Pick it back up between 10 a.m. and 2 p.m. tuned up and ready for Bike to Work Week.
· May 11: Kick off Bike to Work Week from 7 to 9 a.m. Meet at the Santa Ana Metrolink Station for a Blessing of the Bikes and a group ride to Santa Ana City Hall.
· May 14: Ride to the Downtown Santa Ana Farmers Market at 7 p.m. to watch a free screening of "The Goonies."
· May 20: Participate in a ride of silence from 6 to 8 p.m. to honor bicyclists who have been injured or killed and to raise awareness for bike safety. Visit the OC Ride of Silence page for more information on the events in Fullerton, Irvine, San Clemente and Santa Ana.
· May 30: Explore the newly opened Jeffrey Open Space Trail from 10 a.m. to 2 p.m. at the Cypress Community Park in Irvine. Join a group ride, learn about bicycle safety and participate in other family-friendly activities like a children's helmet giveaway.
· June 4: Have your voice heard at the first OC Foothills Bikeways roundtable from 5:30 to 7:30 p.m. at Irvine's City Hall.
For more information regarding OCTA's Bike Month events, visit www.OCBikeMonth.com.
# # #