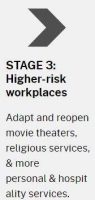 The California Department of Public Health has released new guidance for the reopening of Stage 3 industries.
The State has authorized county health officials to allow the Stage 3 reopening if they have reviewed their COVID-19 data and local preparedness to reopen safely no earlier than Friday, June 12. The OC Health Care Agency announced that the County Health Officer is reviewing this and will make a final decision about the timing of reopening Stage 3 industries. This decision will apply to Santa Ana.
The Stage 3 industries include:
• Campgrounds, RV Parks, and Outdoor Recreation
• Cardrooms, Satellite Wagering Facilities and Racetracks
• Family Entertainment Centers
• Fitness Facilities
• Hotels
• Museums, Galleries, Zoos, and Aquariums
• Restaurants, Bars, and Wineries
State guidance for all industries is here: www.cdph.ca.gov/Programs/CID/DCDC/Pages/Guidance.aspx
Read the State's announcement here: www.cdph.ca.gov/Programs/OPA/Pages/NR20-113.aspx
Read the County's announcement here:
https://occovid19.ochealthinfo.com/county-orange-provides-clarification-local-businesses-after-state-issues-new-guidance-reopening
Orientación para la Reapertura de la Etapa 3 de Hoteles, Bares y Más
El Departamento de Salud Pública de California ha publicado la nueva orientación para la reapertura de las industrias de la Etapa 3.
El Estado ha autorizado a los funcionarios de salud de los condados para permitir la reapertura de la Etapa 3 si han revisado sus datos de COVID-19 y la preparación local para reabrir de manera segura no antes del viernes 12 de junio. La Agencia del Cuidado de Salud del Condado anunció que el Oficial de Salud del Condado está revisando esto y tomará una decisión final sobre el momento de la reapertura de las industrias de la Etapa 3. Esta decisión se aplicará a Santa Ana.
Las industrias de la Etapa 3 incluyen:
• Campamentos, parques de casas rodantes y recreación al aire libre
• Salas de juego, instalaciones de apuestas satelitales y pistas de carreras
• Centros de entretenimiento familiar
• Gimnasios
• Hoteles
• Museos, galerías, zoológicos y acuarios
• Restaurantes, bares y bodegas
La orientación estatal para todas las industrias está aquí: www.cdph.ca.gov/Programs/CID/DCDC/Pages/Guidance.aspx
Lea el anuncio del Estado aquí: www.cdph.ca.gov/Programs/OPA/Pages/NR20-113.aspx
Lea el anuncio del Condado aquí:
https://occovid19.ochealthinfo.com/county-orange-provides-clarification-local-businesses-after-state-issues-new-guidance-reopening