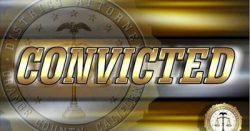 Darrick Patrick Ocegueda, 45, an ex-con, was convicted again on Tuesday, in Santa Ana, on charges of first-degree murder for the stabbing death of a 24-year-old man following a dispute.
Ocegueda stabbed Daniel Bahena to death last June 21. Ocegueda was on parole at the time after being sentenced to two years in prison for an assault in June of 2018 with a deadly weapon.
In the current case Ocegueda had gotten into an argument with Bahena outside a CVS drug store and the dispute led to a fight.
Unfortunately for Bahena he weighed 80 lbs. less than Ocegueda. The prosecutor said that Ocegueda had the upper hand in the fight.
A friend of Ocegueda used a skateboard to try to shield Bahena, who tried to get away along with a friend.
But Ocegueda was not done with the fight. He went to his SUV and returned with two knives. He then chased Bahena for over a quarter of a mile into an apartment building complex and then stabbed Bahena to death.
Ocegueda is scheduled to be sentenced on May 7.